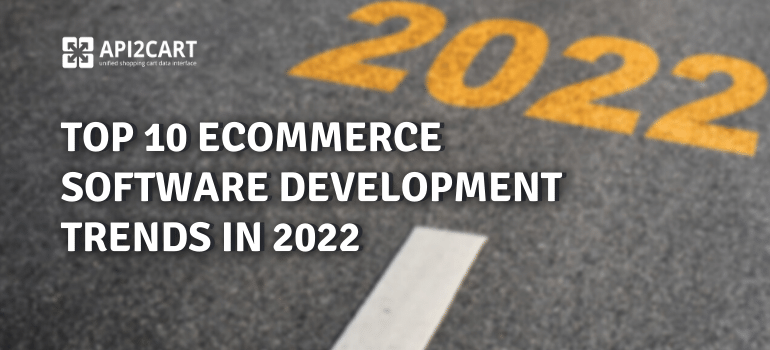 Digital transformation is quickly reshaping different aspects of our lives, including our social interactions, manufacturing, eCommerce, etc.
eCommerce is taking center stage in the lives of individuals and is redefining how business is done. Different trends in eCommerce have come and gone. But in this article, we'll examine trends in eCommerce software development for 2022.
Most Popular eCommerce Software Development Trends
Artificial Intelligence

The growth of artificial intelligence in the last decade was immense, and it is bound to continue in this decade. In 2018, the global AI market was at $21.46 billion, but a recent study has estimated that by 2025, it would grow at a rate of 36.62% to $190.61 billion. This immense growth is due to factors such as the rise of cloud usage, and adoption of digital assistants, and an increase in business automation. AI can be used in different ways and has many benefits for businesses, including increasing productivity, reducing cost, streamlining operations, etc.

Internet of Things

This is one trend that has come to stay in 2022. According to Statista, the global market revenue for IoT by 2025 is estimated at $1.6 trillion. With IoT, businesses can prevent the breakdown of their equipment, manage their inventory, reduce the cost of operation, etc.

Progressive Web Apps (PWAs)

This is a trend that has to continue to grow in recent years because it is cost-effective and more beneficial than native apps. The use of devices and websites have made it easier for eCommerce to thrive. PWA combines mobile and web and gives entrepreneurs advantages like an increase in average conversion, mobile traffic increase, increase in engagement, and average session increase.

Mixed Reality: Virtual and Augmented Reality (VR and AR)

Both virtual reality and augmented reality are together called mixed reality. These realities are immersive environments with digital or physical objects interacting. Mixed reality is already steadily transforming different industries. A 2019 research by Juniper, states that the market value of mobile MR will grow to more than $43 billion in 2024, and 75% of applications that enables mixed reality will be on mobile by 2024.

Big Data

An increase in the use of big data is one trend that is going to develop even further in 2022. Valuable information can be gotten from the ability to visualize, capture and store a huge number of raw data.

The needed data can be gotten through various means, including reviews, surveys, smart devices, online archives, audio/video records, mobile/web apps, emails, corporate sources, etc.

5G

This trend is set to hit the eCommerce and software development world in 2022. This innovative technology enhances wireless communication while providing smartphone users with faster upload and download speeds and better mobile broadband for an improved network experience.

According to Statista, the amount of money to be spent on infrastructure for 5G wireless networks worldwide is estimated to be around $2.3B by 2021, and the number of connections enabled by this network by 2021 will grow to between 20-100 million.

Continuous integration + continuous deployment (CI/CD)

This is another trend for 2022. It is a best practice that enables vendors of IT services to improve the quality of their end-solution and streamline their programming. Continuous integration (CI) will lead to an increase in the speed of assembling apps as it instantly detects code changes and errors. They also have a shared repository where they can put in their codes. With this, errors and bugs can be found and fixed faster.

What continuous deployment (CD) does is to ensure the acceleration of the delivery of the application updates. With this approach, software development companies can build much better apps within a shorter time.

IT Outsourcing

IT outsourcing keeps growing massively. The major driver for this trend is the increased demand for the optimization of the business process.

For example, a lot of SaaS solution providers for retailers like shipping management, warehouse management, marketing automation, etc., have chosen to use API2Cart for their integration needs.

API2Cart provides a unified API for connection with 40+ shopping platforms and marketplaces like Magento, Shopify, OpenCart, etc. The usage of API2Cart helps SaaS systems to forget about the huge budgets needed on developers' team salaries and in-house integration development.

Also, eCommerce integration via API2Cart helps to minimize TCO by several times .

The Rise of Python

Python is one programming language that is consistently used and loved by many developers. Different data have also suggested that python might just be the programming language that's growing the fastest.

The Emergence of Self-Taught Developers
The number of people getting computer science degrees from the university has dropped. Many software developers are already emerging from online learning platforms and the LCNC development will increase to encourage innovation without the need for programmers to hold computer science degrees.
Conclusion
The evolution of eCommerce in the last few years has been evident for all to see. But these current eCommerce trends for 2022 will revolutionize the world of software development even beyond this year. And many of these trends will be long-lasting.
---
Author's Bio
Michael Gorman is rated as one of the most skilled freelance essay writers in the UK. He contributes blog posts and loves to discover new aspects of human existence every day.