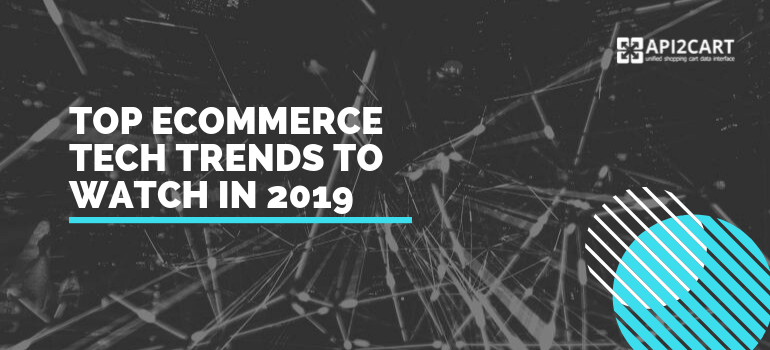 The previous year had been great for eCommerce according to Statista report. Its revenue reached around $2.3 trillion and is expected to hit $4.5 trillion in 2021. The top performers in online retail are constantly adopting technology trends in an attempt to evolve their businesses to all-time highs. That means that eCommerce software providers are being busy with advancing their software solutions and adjusting it to fast-changing industry trends. Here are the main eCommerce tech trends to watch for in 2019.
Top 5 eCommerce tech trends for 2019
Enhanced Customer Experience
Augmented reality (AR) and virtual reality (VR) keep changing customer experience as we know it. Using AR and VR solutions a customer may take a virtual tour around a digital store, place the virtual products onto the real world objects and try on virtual clothes. For example, the new app by Ikea allows its users to visualize furniture in their homes using the mobile's camera.
AR can motivate shoppers to buy as they get more enhanced customer experience. In short, implementing AR and VR can be the greatest shift in eCommerce technology since its beginnings.
One more trend that fits here is the rise of voice search. Humans can speak 150 words per minute vs type 40 words per minute. As the accuracy of voice search and voice recognition becomes more precise, eCommerce retailers should optimize their site content to be searched appropriately.
Blockchain Technologies
We will watch blockchain-based eCommerce platforms appear as a separate segment in eCommerce. OpenBazaar can serve as an example of a peer-to-peer platform where transactions are made through cryptocurrencies. Each action by the buyer or seller generates a block and 'proof of work' in the marketplace, based on which the other entity acts. The blockchain technology is already used in digital currencies and will continue to be used not only for payment transactions but in eCommerce apps as well.
Artificial Intelligence (AI) and Machine Learning
Machine learning can contribute valuable options to eCommerce software. Intelligent algorithms become instrumental in customer segmentation and personalization. They help to identify patterns in customer's web browsing and thus create huge possibilities for personalized recommendations. Implementing these technologies can boost sales up to 15%.
Order and inventory management can become more efficient with inventory forecast and predict market demands. Shipping software may benefit from anticipatory shipping algorithms which may predict shipping demand before an order is made.
Chatbots and the rise of conversational commerce present a separate distinct trend in eCommerce tech. In 2018 chatbots will widen their functions, from supporting customer service routine to more complicated personal shopping assistance. As customers are getting used to the help of AI creatures we will see more ventures developing chatbots for every possible purpose.
Automation software
eCommerce operations can be efficiently improved by using automation. Areas of eCommerce routine that need automation are order and inventory management, cart abandonment solutions, email marketing tools, accounting and bookkeeping and social media management systems. As the number of online shops grows, there will be a sizeable growth in demand for any automation solution for eCommerce.
Multichannel eCommerce
With so many different shopping carts and marketplaces, the future of eCommerce is multichannel. Selling across several channels is the matter of omnipotent importance. As more eCommerce entrepreneurs are employing multichannel selling strategy, there is a greater demand for software that can communicate with various sales channels via APIs.

If you develop eCommerce software, you may be interested in using API2Cart's unified data API. It allows integrating your software solution with 40+ shopping carts and marketplaces, making the software truly multichannel. Don't waste precious time, contact our expert today to get a free trial.