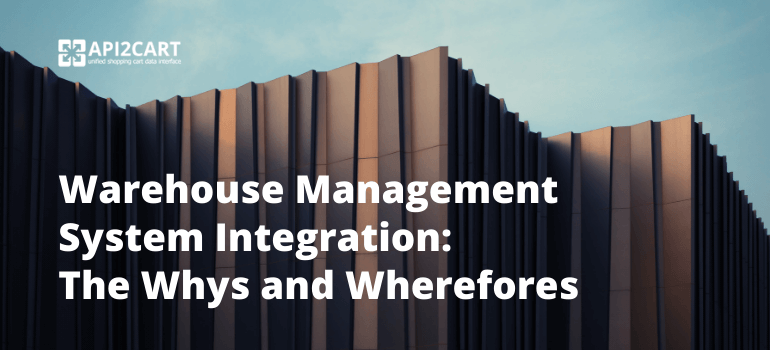 The world of eCommerce is very impressive and attractive. However, if you dive into it, you will realize that it's not easy to stay afloat. Starting an eCommerce business is more than just opening the online store. It comprises many processes and when such a business starts to grow, the number of required operations raises as well. Sooner or later, the quantity of products and orders becomes so big that e-vendors start using warehouses, where warehouse management systems are used to ensure effective product storage and movement control.
Warehouse management systems make an essential part of the supply chain. They are aimed to manage the movement and placement of goods within a warehouse and process the related transactions including receiving, putaway, shipping and picking. Such systems bring great changes in e-retailers' lives and considerably simplify their work process. They give merchants the possibility to increase the accuracy of work, decrease the labor expenditures and enhance functionality with the cycle time reduced at the same time. In order to provide e-retailers with information on the flow of products, warehouse management systems utilize wireless LANs, barcode scanners and mobile computers. At first, they gather the information on the item, its location and quantity, the unit of measure and order information. With these details collected, they can then accurately identify where to pick and stock goods as well as in what sequence to perform these operations.
Warehouse Management System Integration with eCommerce platforms
Warehouse management systems are always looking for innovations and new possibilities for their businesses. Integration with shopping platforms like BigCommerce, Shopify, Ecwid, Hybris makes an excellent opportunity to considerably expand the circle of potential clients and gain more profits. It allows warehouse management software providers to retrieve and sync data on products, categories, customers, orders and tracking numbers from their clients' stores. But vendors use different shopping platforms and each of them has its own way of data storage. Thus, software providers will need to develop separate integration modules for each shopping cart and it's not a piece of cake.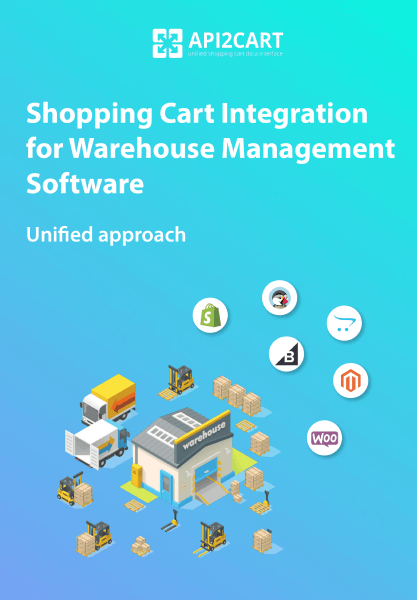 Shopping Platform Integration for Warehouse Management Systems
Explore how to develop the integration with multiple shopping solutions easily.
DOWNLOAD
As a warehouse management system provider, you'll need to make a considerable effort to find an experienced developer to elaborate integration modules. After they are finally finished, you'll have to pay him a fortune. Moreover, each of the integration modules will need further maintaining, which implies even more expenses. So finding a solution helping such B2B businesses to get access to various shopping carts would be great. Luckily, there is a service that helps to overcome challenges related to the complexity of integration with shopping platforms.
API2Cart is a robust service that allows warehouse management system, inventory, order management, email marketing and other software providers to connect to 40+ shopping platforms at once. The service is integrated with such widely used by merchants all over the world shopping carts as Wix, WooCommerce, Magento, Shopify, BigCommerce, X-Cart and other top platforms.
With API2Cart, you can integrate your warehouse management system with various shopping platforms simultaneously and easily get all the information necessary. You'll be able to retrieve all the details on products, categories, customers, orders, tracking numbers and synchronize them within your system to make manufacturing process organization a pleasure.
In order to make the process of integration easier, API2Cart provides you with a well-documented API and full technical support. To ensure the security of the interaction process, API2Cart offers a 32-digit API-key together with SSL certificate.
Leave your doubts behind and make your business more comprehensive with integrating your system software with top shopping platforms to satisfy all customers' demands. In case you have any questions, don't hesitate to schedule a FREE сonsultation with our expert.