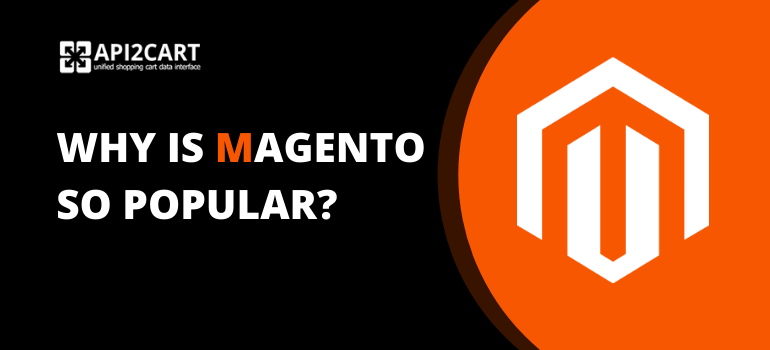 Any serious SaaS app provider is well aware of the growing popularity of Magento. This large eCommerce platform is expanding day by day, reaching more and more sellers willing to promote their products and services. So far, Magento has reached a whopping 12% of all online sellers. This means that more than a quarter of all the people who sell online are using this platform.
Magento stays ahead of the competition by offering extraordinary flexibility and a high degree of customization. Being an open-source platform, it allows developers to come with their innovative pieces of code and make the platform even more reliable and potent. Magento also offers a wide range of features, including grouping of products, SEO dedicated modules, email lists, CMS for static pages, multi-store facility, multi-tier pricing, private sales, and the list goes on.
Magento is one of the most sought-after eCommerce platforms because it offers a user-friendly interface, easy integration with 3rd parties, responsive design, multiple deployment choices, plus it allows customers to benefit from delighting & enjoyable shopping experience.
Additionally, since Magento 2 has been launched, this platform has wholly taken over the eCommerce market. This updated version features an improved admin interface, improved mobile shopping experience, faster load time, better testing capabilities, and enhanced technical architecture. Companies that choose Magento can also quickly scale up their businesses and expand into new markets.
As a SaaS app provider, you need to realize that the best way to serve all those Magento eCommerce users is to integrate your service with Magento's API. At the end of this article, we'll show you how to properly implement Magento integration and save both time and money in the process. Before then, let's take a closer look at what Magento is.
What is the Magento eCommerce Platform?
Magento is a wildly-popular PHP-based open-source eCommerce platform. In 2020, Magento is considered to be the top eCommerce platform, offering an unprecedented level of flexibility, excellent features, and great capabilities.
Magento has over 250k active users. It powers around 12% of all eCommerce stores available today. However, only 11,000 of its sellers are running Magento 2, which is an improved version. In 2019, nearly 7,500 eCommerce site owners migrated to Magento from osCommerce, OpenCart, VirtueMart, and other competitors.
Magento handles over $115 billion in transactions on a yearly basis, and they are expected to grow to over $225 by 2025. Some of the big companies out there that prefer Magento over other platforms include Omega Watches, Ford, Bvlgary, Liverpool FC, Land Rover, and Christian Louboutin.
Magento is considered to be one of the best eCommerce platforms in 2020 due to several reasons. First, they can leverage open-source technology to enable business owners to cut costs and save a lot of resources on customer support. Second, they offer seamless third-party integration, offering some of the best plugins in the industry. Last but not least, Magento's SEO capabilities can easily outperform WordPress's SEO capabilities.
Magento Popularity In Different Countries of the World
When it comes to the popularity of this solution in various countries on the globe, we can observe that European countries and the US rule supreme. In the US, over 67k people use Magento. The list of European countries that use Magento includes UK, Italy, Spain, the Netherlands, Germany, and France. The other two essential hubs for Magento users are Brazil (6.8k users) & Au Australia (4.9k users).
In terms of its competitors, Magento falls back to Prestashop, which has 82k users in the US and over 100k in Europe. It also falls behind OpenCart, which has over 111k users in the US, and a whopping of 52k users in Russian and 21k users in Ukraine. However, Magento is better than osCommerce, VirtueMart, UberCart, Drupal, and dozens of other smaller eCommerce platforms.
Why is it Important for eCommerce SaaS Providers to Integrate with Magento?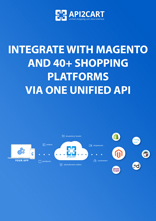 Magento Integration via API2Cart
Explore how Magento integration can help your business become more competitive.
DOWNLOAD
As a SaaS app provider, you want to integrate your business with Magento if you're going to gain unrestricted access to all these platform users. Integrating your app with this platform enables you to retrieve all product-related data and cart-related data from e-stores.
By integrating your solution with Magento, you'll be able to easily sync, add, and delete all the information on products, customers, prices, orders, categories, and the list goes on. You'll also be able to make updates on both sides and streamline the gathering data process.
Magento integration is hugely beneficial for any SaaS app provider, from order fulfillment solutions and shipping management software to email marketing, multi-channel software, mobile eCommerce apps, and analytics software.
How to Properly Implement Magento Integration?
Setting up your integration with Magento is quite a time-consuming, tedious process. Due to Magento's complex architecture, this entire process could cost you thousands of dollars in set-up costs, maintenance, and updates. You should also hire a team of experienced developers to help you with this task, which includes additional costs.
The other option you have, which is simpler, cheaper, and less time consuming, is using a unified API such as the one offered by our team. API2Cart is a powerful shopping platform integration tool that streamlines the integration process and deals with updates and maintenance. What's even better is that our system allows you to connect your SaaS solution with 40+ shopping platforms and marketplaces at once.

API2Cart has more than 100 API methods for managing the data from your clients' stores and allows to use them easily for all your business needs.
Our unified API gives you access to over 1 million potential clients while saving you time and precious resources. It gives you the benefit of focusing on running & growing your business, while our experts are ensuring your system gain unobstructed access to online stores' data. You also gain 24/7 support and a free 30-day free trial to test out our service.
You can now stand ahead of your competitors by connecting to millions of potential customers, including over 250k that are using Magento. Contact us now and learn how you can benefit from the functionalities of API2Cart service.