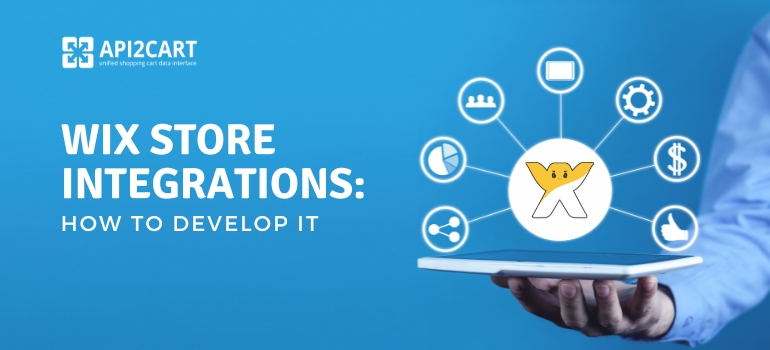 The digital landscape is constantly changing, and eCommerce businesses need to change with it to stay competitive. One way to do this is by integrating your eCommerce software solution with shopping carts and marketplaces. It can provide a number of benefits, including increased productivity and improved marketing strategies. In addition, shopping cart integrations can automate many of the tasks associated with operating online stores, freeing up time for you to focus on other aspects of your business. Wix is one such platform, and the Wix store integrations allow developers to access Wix's vast array of features and functions.
By connecting your software to Wix, you can offer your customers multiple features for managing store data as you will have access to orders, prices, customer details, and more. So, let's find out more about Wix store integrations and how you can develop it in an easy way.
The Meaning of Wix Store Integrations
The Wix store integration allows for retrieving, modifying, adding, and deleting data from the Wix stores. In addition, it gives developers the ability to build apps that can directly manipulate data stored on the Wix platform.
Developers can use the Wix API to connect any third-party software or app to the Wix platform's stores. It allows for seamless integration between the two systems, making it easy for users to access and manage their data. The Wix API is an essential part of the Wix platform, and it is constantly being improved and updated to provide the best possible experience for developers and users alike. As such, the Wix API integrations are a powerful tool for building connections.
Wix Integration Benefits
Integrating your eCommerce software with Wix is a smart move for any business. By connecting to Wix data, you can instantly access a wealth of information that can be used to implement important features in your app or software.
There are many reasons why your B2B eCommerce software should implement Wix store integrations:
Connecting to Wix data gives you instant access to a large amount of information you can use to implement essential functions in your software or software. The platform allows working with data related to orders, products, clients, and other necessary data.

Its market share is more than 10 million users and is growing rapidly. So, by integrating with Wix, you can instantly get a huge potential client base.

It allows you to provide additional functionality and value to your customers. You can also ensure your own growth and success by helping your customers grow and expand their businesses.

You ultimately increase your income when you attract more customers and expand your market share. As your business becomes popular around the world, more and more people learn about your services and get back to your solution.
Wix API Integration Challenges
Wix store integrations can be a challenge for any B2B eCommerce software company. Wix is constantly evolving, so keeping your integration up-to-date takes time and effort. Additionally, integrating other systems or apps with Wix can be costly to develop and maintain.
Finally, security is a serious problem for eCommerce providers and their customers. The consequences of API abuse, such as data breaches and data loss, can be serious problems. In addition, they can affect the company's reputation and finances and harm the end users.
However, the advantages of having Wix store integrations can be significant. Therefore, for software providers that are considering building such integration, weighing the costs and advantages is essential before making a decision.
Wix Store Integration Development
When it comes to Wix store integrations, there are two primary ways to develop them: in-house or through third-party services.
The benefits of developing Wix store integrations in-house are that you have complete control over the process and can tailor the integration to your specific needs. However, as mentioned earlier, it may also be expensive and time-consuming and cause problems.
The benefits of using third-party services to develop Wix store integrations are that they are typically less expensive and can be completed more quickly. Additionally, third-party services allow to connect to multiple eCommerce platforms at once.
Ultimately, the decision of whether to develop Wix store integrations in-house or through third-party services depends on your specific needs and budget.
If you're looking for a way to connect your software with Wix stores, API2Cart is an excellent solution. In addition, with the unified API, you can easily access and manage your Wix store orders, prices, shipping details, and more.
Our unified API makes connecting with 40+ other shopping platforms like Wix, Magento, Shopify, Amazon, WooCommerce, eBay, and easier - without needing to develop separate integrations for each platform. Plus, our team takes care of all the hard work for you, so you can focus on your business.
As a result, API2Cart is a cost-effective and time-saving solution for eCommerce businesses.
If you decide to use API2Cart, you will receive round-the-clock support from our team, which will help you in every step of Wix store integrations. In addition, you can test all the features of the API2Cart for 30 days free.
Register your free trial account, add your customers' stores, and try out our API methods for managing e-store data with ease.