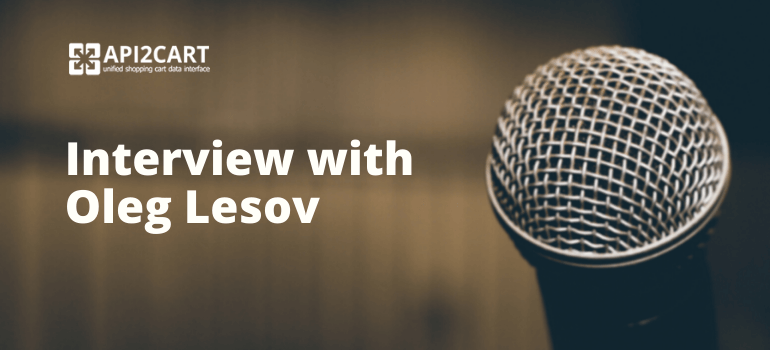 Today we are proud to present to you an interview with Oleg Lesov, Co-Founder and CEO of Softcube, a ready-made solution for personalized merchandising and product recommendations for eCommerce. In the interview, he shares his experience, a point of view on the role of integration with shopping carts for B2B services and his thoughts concerning future of the e-retail industry.
Oleg, tell us a bit about your professional evolution. When did your interest in information technology develop? Did you always know you would end up a company founder?
It all started at school where I met my future wife and Oleg Boroday who I later founded Softcube with. It was then and there where we learnt how to work on complicated projects and find creative solutions. Right after the graduation being just 17 I started working as a developer. I had no idea I would found my own company at that time. In 3 years, I started working as a manager on several complicated projects. After 4 years of the routine, I decided to quit the job and co-founded Softcube with Oleg Boroday.
You are holding the position of Chief Executive Officer at SoftCube, the company that you own. How would you define the value of your product? How do you help businesses achieve better results?
We help retail companies convert data to money. Most retailers don't know how to use the tons of store data available to create powerful marketing campaigns. Softcube is aimed to help them make the most of this data. We create personalized offers for each customer based on smart recommendation algorithms.
Interview with Oleg Lesov Co-Founder and CEO at SoftcubeAt Softcube, we do three things simultaneously:
(1) We collect very large amounts of information
(2) We process information
(3) We create individualized product recommendations
Your service is a find for online retailers. It must have been a serious challenge to access the store data necessary to build the rich set of features you today provide. What is the role of shopping cart integration for businesses of your niche?
It is very important. To create recommendations, we need information about products, customers and purchases. If we'd worked on the integrations by ourselves, it would have taken up to 1 year and way more money.
It has been a year since you integrated with shopping carts via API2Cart. How has this collaboration changed the flow of your business so far?
It helped us to get customers on many different carts with one integration. It is a win-win situation for everybody.
Our customers get quicker integration. Even if their cart is not very popular.
Softcube focuses on its core competence of processing data. Using API2Cart is very cost-efficient for Softcube. We are very happy that we don't need to develop integration with every cart.
How do you envision the e-retail industry will change over the years? What role APIs will play there?
I think that API2Cart is a piece of API economy of tomorrow that we can see today. In the future, all B2B services for e-retail and other B2C companies will be provided through APIs. We can see they foster innovations today indeed, but the tomorrow of APIs will go way further.
We want to thank Oleg for taking some time out of his busy schedule to answer the questions and wish him and Softcube long years of luckiness and prosperity.