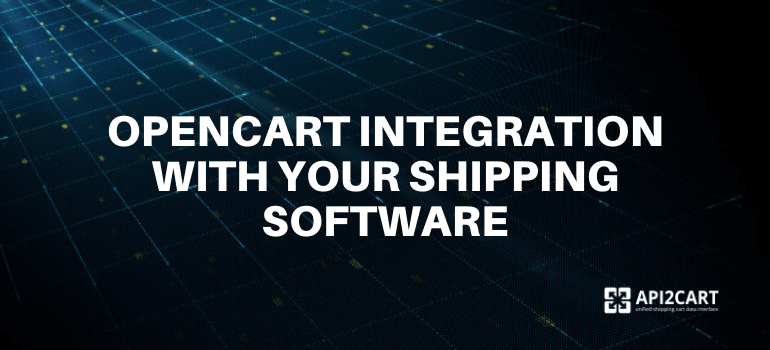 The shipping management software much depend on their integration with shopping platforms and marketplaces because of the data they need to retrieve from these sources. This information forms an integral part of their activities.
The shipping solutions need to access information such as orders, purchasing details, customer details, shipments, and others. Thus, shipping software providers aim to connect their systems with multiple popular shopping platforms like OpenCart, Magento, Shopify, etc.
However, developing shopping cart integration requires a lot of time, money, and expertise. That's why a significant number of shipping software providers are looking for the easiest and cheapest way to connect their solutions with various platforms in the short term.
This article will give you useful insights into shopping platform integration. Primarily, it deals with topics such as the importance of shopping cart integration for shipping software, advantages of OpenCart integration with shipping software, and how API2Cart helps to connect easily with various eCommerce platforms.
Why is Shopping Cart Integration Essential for Shipping Software?
The online shopping industry is connected with a lot of operations, such as inventory management, order fulfillment, shipment tracking, etc. That's why retailers are looking for software that can help them to cope with all the necessary operations automatically. For example, they choose to use quality shipping software.
eCommerce shipping software has to be connected with various shopping platforms for carrying out their key functions. It enables them to receive the order information from different sales channels, get data related to customers, products, and shipping details.
eCommerce integration enables shipping software to track the shipments, manage stock levels, and update order statuses automatically. Integration is crucial, and if it goes wrong, software providers can forget about high revenues and even lose valuable customers.
What are the Main Benefits of OpenCart Integration with Shipping Software?
OpenCart integration with shipping software can ensure the expansion of the customer base of providers of these solutions. That is because more than 200 000 online sellers use this platform for running their webstores. Moreover, connection with OpenCart allows accessing all valuable data.
The integration with OpenCart enables to receive, add, upgrade, delete, and even synchronize all the information from users' stores on OpenCart. For example, shipping software can manage the information connected with customer details, orders, products, payments, shipments, and others.
The integration process is typically a complicated task. It requires a highly expensive and qualified specialists' team, detailed investigation and at least two months to develop. Moreover, ongoing maintenance is quite a difficult and time-consuming process.
That is why a lot of shipping management software providers are searching for the best way to integrate with OpenCart and save their budget.
How can API2Cart Help Shipping Software to Connect with OpenCart?
API2Cart enables shipping software providers to avoid all the issues related to integration with OpenCart and over 40 other shopping platforms. Using our unified API eliminates the need to develop separate integrations for every platform.
The integration process needs to be executed only once with API2Cart for being able to access the data from different shopping platforms and marketplaces. With the help of such information, it is easy to monitor and synchronize inventory, create shipments and update orders statuses automatically, etc.
Here is how you can implement OpenCart integration with shipping software via API2Cart:
Create a new API2Cart account;
Add any of your customers' stores based on OpenCart;
Upload the connection bridge to your client's store and use the store key generated by OpenCart Plugin;
Work with products, categories, orders, customers and taxes from OpenCart based stores.
You can use more than 100 methods for managing the data provided by API2Cart. Also, we have a detailed API Docs that can make the integration process smooth and easy.
Conclusion
If you want to implement a secure and robust OpenCart integration with shipping software, you should try API2Cart service. It will help you to save your money and time and forget about any difficulties that may occur after the development of a connection with OpenCart on your own.
Furthermore, one integration with API2Cart allows getting connected with not only OpenCart shopping platform. Also, your shipping software will be automatically connected with Magento, Shopify, Bigcommerce, PrestaShop, Etsy, Amazon, eBay, and the other 40 platforms.
Try API2Cart for 30 days for free now. All you need to do is to contact our manager for more information.