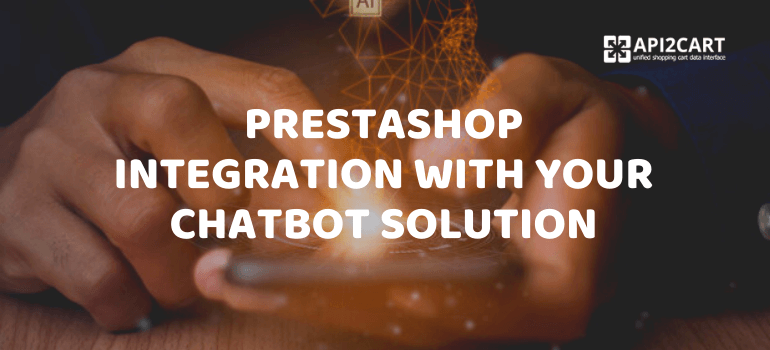 As a chatbot software provider, you probably already know that professional and constant integration with marketplaces and shopping carts is critical for your success. Shopping cart integration powers the vast majority of processes and features used by your company to reach your target niche.
eCommerce chatbots, as interactive apps designed to automate communication and tasks, are becoming increasingly complex. More and more website owners, affiliate marketers and digital entrepreneurs are now in need of chatbots. Thus, application providers that want to thrive need to be ready to support the integration with multiple shopping platforms.
In eCommerce, chatbots are perfect for replacing humans in live chat. These modern replacements of the human workforce can dramatically improve the shopping experience by minimizing wait time, increase retain rate by sending personalized messages to customers and also prevent shopping cart abandonment.
With shopping platforms integration, you can enable all your customers to gain access to their data with ease and retrieve product details, shipping info, quantities and other types of information.
Why is Shopping Cart Integration Vital for Chatbot Software?
Chatbots are undoubtedly essential in 2020. They become a means for creating better, safer and enhanced shopping experiences and to reduce shopping cart abandonment by increasing customer satisfaction dramatically. To build a successful chatbot that your clients can fully leverage, it is imperative to integrate it with various shopping platforms.
While integrations are unavoidable, the great news is that API2Cart provides a seamless connection to chatbot software providers. The data your chatbot collects from stores based on PrestaShop or any other platform is collected and then send to the shop owner.
With shopping cart integration, your chatbot can collect a wide range of data, such as customer info, product attributes, categories and variants, product quantities, and even customers' sales history.
Integration is vital for chatbot software because it ensures that no pieces of information are missing and that all customer-related information is stored. With the integration via API2Cart, your chatbot will be able to check the availability of products in stock, offer products to customers, create orders and send tracking info.
With shopping cart integration, your chatbot does all the above automatically, so you can save a great deal of time and keep tabs on all processes. At the same time, the customers of online stores get to enjoy a superior shopping experience.
What are the Top Benefits of PrestaShop Integration with Chatbot Software?
PrestaShop is an increasingly popular eCommerce platform. Over 250k business owners already use this platform and that number is overgrowing. In 2022, it is estimated that over 350k people will use this platform to sell their products and services.
PrestaShop integration with chatbot software comes with huge benefits for your solution. For starters, you can easily get product lists with prices, images, descriptions, etc., get customer info, process orders made on the stores built on PrestaShop.
With API2Cart, you can easily integrate your chatbot software with PrestaShop and 40+ other shopping platforms. Additionally, you can use API2Cart's unified API to connect your chatbot software with multiple platforms and marketplaces at once, save money and your developers' time, and focus on growing your business. At the same time, API2Cart takes care of the maintenance and platform versions updates.
How to Connect with PrestaShop Easily?
Once you integrate your chatbot system with PrestaShop, you can work seamlessly with all the data from online stores based on this platform.
The more stores you can access, the more potential customers you'll gain access to. API2Cart offers you seamless integration to a wide range of eCommerce platforms and marketplaces, including but not limited to PrestaShop, eBay, Woocommerce, Magento, Shopify, 3dcart, Shopify, Magento and others.
Connecting with PrestaShop takes a lot of time and requires a team of qualified developers. Most companies trying to set up the integration on their own and have to deal with three main challenges: time, expenses and qualified human resources.
For a single integration, chatbot software companies should expect between 4 to 12 weeks. During this time, the developers need to learn the logic, architecture of the platform and all its API aspects.
In terms of expenses, the company needs to invest a vast amount of money into a good developer. They also need to hire a specialist to maintain the existing connection, which could get the costs for up to $100k a year. Experienced developers who know how to create and maintain a PrestaShop connection are quite rare, so their price is extremely high.
The great news is that you can connect to PrestaShop easily without having to invest a considerable amount of money or spend your precious time. Thanks to API2Cart's unique system, you can avoid all that hassle and can focus on growing your business. At the same time, the experts from API2Cart are working hard to integrate your chatbot business with PrestaShop and numerous other eCommerce platforms.

Our unified API allows your chatbot software to get connected with all popular shopping platforms so that you can manage all the data of your customers with just a few mouse clicks. We provide you with flexible pricing and enable you to test our service for free for 30 days.
If you want to know more about PrestaShop integration with chatbot software, do not hesitate to get in touch with one of our managers.