5 Reasons Why Your SaaS App Should Integrate With Shopify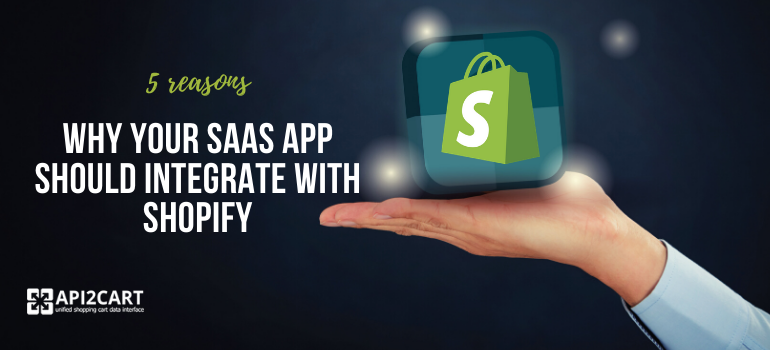 The world of B2B business owners and software developers is getting competitive always. There are several services to provide, like inventory management, warehouse management, shipping management, order fulfillment, and much more. Developers have designed smart systems to streamline the tasks of store owners and run their business seamlessly. These systems, no doubt, manage everything from customer and product information to order processing and shipping.
To gain an edge in this competition, these systems need to be more versatile and should be capable of upgrading with new trends and technology. Shopping Cart integrations are the gateway to this innovation, and integration with Shopify is your first step to open up new opportunities for your SaaS App.
Here are five reasons why you should integrate with Shopify
Integration with Shopify is more than just a connection with the shopping cart or marketplace. With more than 165000 web stores, Shopify is a leading E-Commerce platform. Here is what integration with this shopping platform allows your SaaS app to do.
1. Expand the pool of customers
As of February 2019, the number of merchants using the Shopify platform was reported to be 800,000. It has a global reach in 175 countries. Hence, integration with Shopify allows you to expand your clientele at a global level.
2. Expand market share
With 800,000 merchants who chose integration with Shopify, its revenue reached $1.1 billion in 2018. At present, its market value is estimated at $ 41 billion. Shopify is ranked third among the top 3 cloud-based E-Commerce leaders. It allows merchants from different industries and to develop their online stores. The leading countries that are using Shopify are the US, UK, Brazil, Canada, and many more.
3. Get access to actionable data
Shopify supports more than 35 methods to work with categories, customers, orders, products, etc. Thus, your SaaS app can access and use data from customers' stores as well as extract, add, update and manipulate it if needed.
4. Improve functionality
Shopify offers a variety of solutions such as abandoned cart recovery, POS, fulfillment, dropshipping, analytics, reports, etc. Integration with this shopping platform can significantly improve your functionality, give new possibilities for your system and attract even more clients.
5. Increase profits
Shopify will never stop making clients, and so you a SaaS app provider will keep on earning profits on integration with Shopify.
Challenges of integration
Although integration with Shopify brings in an ocean full of benefits, it is equipped with pitfalls as well. Firstly, data retrieving, and syncing is a significant challenge in integration. Followed by this, every integration requires substantial technical expertise and consumes a lot of time. Consequently, each integration will cause you a considerable amount of money. The problem is not finished yet. Every integration needs further upgrades to keep up with newer versions of shopping carts. It will lead to additional consumption of time and resources.
Your Shopify Integration Solution
A simple way to integrate with Shopify is via a unified API provided by API2Cart. Integrating once with API2Cart, you get access to 40+ shopping carts and marketplaces including Shopify. You'll be able to easily get and process store data such as orders, products, customers, shipments, categories, etc. In addition, when new versions of platforms appear, API2Cart adds them, so you don't have to monitor for changes and develop support for them.
Find out more information about how API2Cart works. Schedule a call with our representative or contact us and we will gladly answer all your questions.