Shopify API Integration: A Timely and Worthwhile Business Enhancement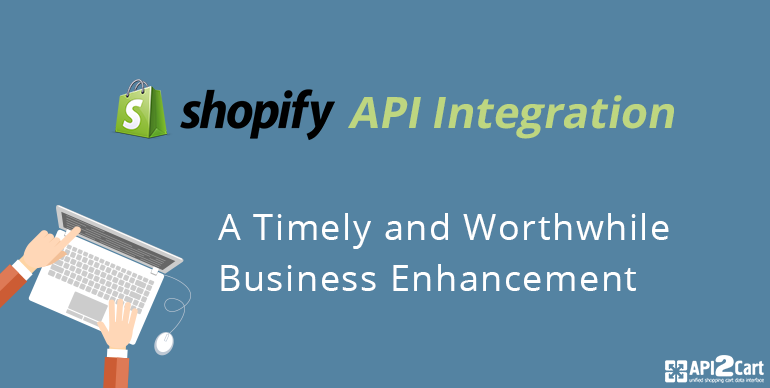 Application Programming Interfaces (APIs) came to reshape the world of business. They emerged to make it possible for applications to integrate and interchange information, so millions of enterprises representing different economy sectors are today benefiting the ability to data intertwine for better results. Among those one can find various B2B e-Commerce services that have become comprehended networks of platforms, engines, and other services that their clients use.
With the lion's share of retail businesses moved or expanded online, integrations have become vital for systems like inventory management tools, shipping software, and price optimization engines. To serve web merchants, such solutions need to be capable of retrieving data from customer stores, and sellers choose different shopping carts to build their e-shops on.
It might sound complicated, but, apart from being what B2B e-Commerce solutions can't do without, integrations with shopping platforms are also beneficial in a number of other ways. They help to enlarge market share and make a ready ground for further feature and service development to have more to offer to a larger number of potential customers.
When the Choice of the Platforms to Integrate with Is the Matter
It is wise to begin the chain of integrations with popular e-Commerce software solutions like Shopify. The number of its users is as big as 200+ thousands, which means that the connection with this platform will bring you just as many likely clients. In the language of tech, Shopify integration will make it possible for your application to access and use data from customers' stores as well as add, modify, update, and change it if needed.
Integration Pains and How to Avoid a Good Deal of Them
Paradoxically speaking, the biggest pain about integrations is integrations themselves. They take at least a month each, require expertise so you will have to find someone experienced and smart to write them -- unless you don't care how flexible and well-performing they will be--, and can stop working one day if not maintained. And don't forget the cost of it.
API2Cart offers a single solution to all the problems listed above. It provides one API that serves as a key to the doors of 30+ shopping carts, including Shopify, Magento, WooCommerce, OpenCart, and PrestaShop.
If you would like to learn more about how API integration with Shopify and other platforms can enhance your business, schedule a call with our expert, hit us up on chat, or leave us a message.