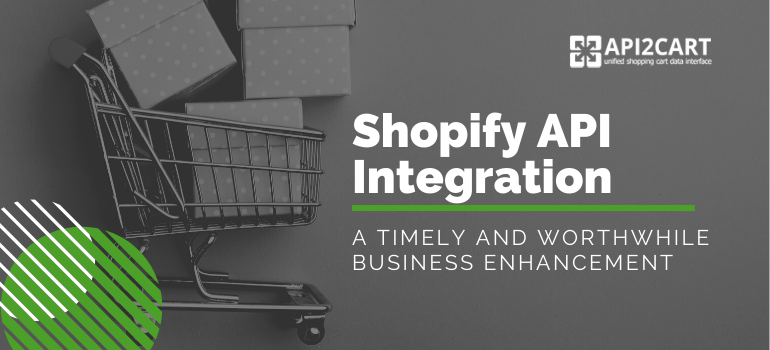 Are you a SaaS App provider dealing with the eCommerce industry? Then, that's the right place for you.
You may be looking for ways to enhance the possibilities of your business, gain more clients and become a competitive one. Among the range of possibilities for your SaaS App, haven't you considered to expand the list of supported platforms? If not, then we must admit that you are missing millions of potential customers!
Get to know in this article about how Shopify API Integration can bring benefits to your SaaS App solution.
When the Choice of the Platforms to Integrate with Is the Matter
It is wise to begin the chain of integrations with popular e-Commerce software solutions like Shopify. The number of its users is as big as 800+ thousand, which means that the connection with this platform will bring you just as many likely clients. In the language of tech, Shopify integration will make it possible for your application to access and use data from customers' stores as well as add, modify, update, and change it if needed.
Which industries are in Need of Shopify API Integration?
Inventory management system. Easily connect your soft with Shopify and retrieve products, orders from the stores, control inventory and stock levels easily.
Mobile commerce. Get and sync products, orders, customers and other related info from online shops and reflect the changes into mobile one in no time.
Data feed management. Retrieve products with related data and send the info to various channels to establish excellent data feed service.
Shipping management software. Shopify API integration allows your system to import orders from online stores based on this shopping platform, update tracking info and order statuses, monitor and sync inventory levels, etc.
Marketing automation system. Send emails featuring new items, discounts and special prices, notify on order statuses, track cart abandoners.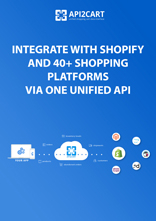 Shopify API Integration Development
Explore how Shopify integration can help your business become more competitive.
DOWNLOAD
Integration Pains and How to Avoid a Good Deal of Them
Paradoxically speaking, the biggest pain about integrations is integrations themselves. They take at least a month each, require expertise so you will have to find someone experienced and smart to write them -- unless you don't care how flexible and well-performing they will be--, and can stop working one day if not maintained. And don't forget the cost of it.
API2Cart offers a single solution to all the problems listed above. It provides one API that serves as a key to the doors of 40+ shopping platforms, including Shopify, Magento, WooCommerce, OpenCart, Etsy, eBay, PrestaShop and many more. Integrating once with API2Cart, you do not have any more to develop separate connections with each shopping platform. You will be able to connect to all major eCommerce carts at once.
Moreover, API2Cart provides more than 100+ API methods for managing e-store data. Using them, your software can import orders, sync inventory levels, manage e-store customers' info, and update products on Shopify and other platforms easily.
If you would like to learn more about how API integration with Shopify and other platforms can enhance your business, schedule a call with our expert, hit us up on chat, or leave us a message.