API Methods for Warehouse Management Systems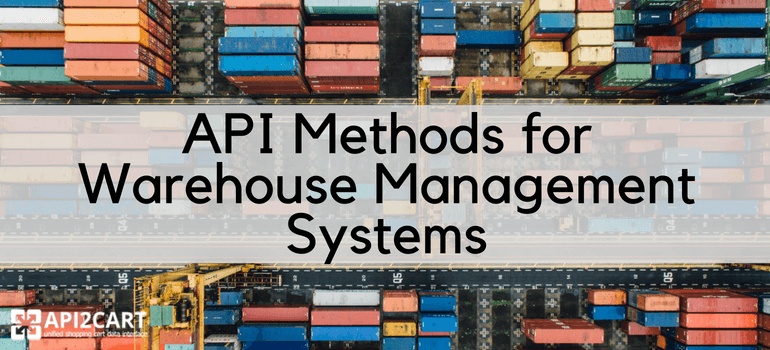 Sooner or later every retailer faces the difficulties with control over quantity of products and orders: errors in fulfilling orders, shipping goods, overselling, etc. To cope with challenges of the rapidly growing e-retail business, they are looking for the solution that will automate and streamline part of the tasks. For example, warehouse management software, which makes it simple to manage and control the goods which enters a warehouse until they move on.
Warehouse management systems operate with real-time data and current information on orders, shipments, customers, products, categories and etc. To retrieve and change the database data from stores, the software needs integrations with shopping cart and marketplaces on which the stores are based on. However, implementing various integrations is time-consuming and expensive process. Luckily, there is a better solution to get connected to shopping platforms you need.
API2Cart makes it possible to retrieve and operate all the needed store data based on shopping cart and marketplaces via unified API. Here is a set of methods API2Cart provides for warehouse management system:
for working with products:
product.info - retrieve the details aboutproducts
product.count - count the quantity of orders
product.add/ list/ update - add/update products, retrieve the list of products
for working with orders:
order.add/ list/ update - add/update orders, retrieve the list of orders
order.info - retrieve the details about orders
order.find - search the list of orders made by customers
order.shipment.tracking.add - track shipments' info status and check delivery performance
for working with customers:
customer.info

-

retrieve customers details
for working with categories:
category.list

- retrieve the list of categories from the store

category.info

- retrieve categories info

You can find all supported methods here or in our documentation. Keep in mind, that with API2Cart service you can integrate with more than 35+ shopping carts and marketplaces including Magento, Amazon, Shopify, Woocommerce, and others. In case you get interested, click the button to schedule a call with our representative or sign up to test it for free.