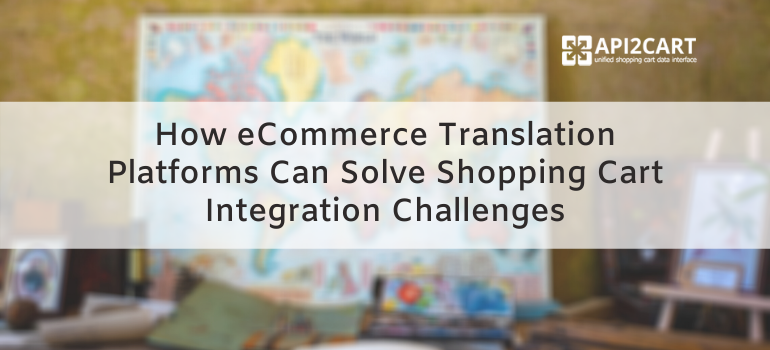 eCommerce (retail) and language translation go hand-in-hand. Being the most common activity on the internet today, shopping is the preferred irrespective of place and language. Therefore, retailers need to adapt their digital experiences to suit the people living in different regions and speaking different languages. Here's where eCommerce translation/localization systems hold significance. This software allows retailers to expand their market without any linguistic and cultural barriers.
eCommerce translation systems totally depend on integration with marketplaces and shopping carts. This is because it is important to keep the brand consistent across all the stores and shopping channels. These systems ensure proper and accurate translation to localize the eCommerce stores with the help of the right integration. As a result, the customers would be able to see correct information across all the channels in their native languages.
Integration is not an easy task. It takes time and has complexities associated with it. Moreover, if more than one integration is to be performed, then the situation gets even worse. In this article, you will get know how eCommerce translation platforms can overcome the challenges of shopping cart integration.
The basic functions of each eCommerce translation system
An eCommerce translation system provides the following functionality to the online store owners:
It manages the product details on multiple shopping platforms. From retrieving images and information, pushing products into stores, editing descriptions and other details, to deleting items, eCommerce translation system handles everything.
Handle different categories and currencies
Translation systems can handle different currencies based on countries. Categories are an added functionality where retailers can add, delete or update different categories according to their needs.
Control inventory of stores
eCommerce translation systems manage inventory across multiple channels by checking product availability, returning item status and the available item's quantity.
The system gets notified whenever a new ordered is placed in the store. It then proceeds with further processes like tracking delivery and payment details of the order.
Shipment status management
The retailers are able to then track the location of shipment after the order has been placed successfully. This information is then transferred to the customers in their native languages.
Manage customer information
The system lists and maintains customer information like contact details, email addresses, etc. while tracking orders.
Why such systems need integration with eCommerce platforms?
The eCommerce translation systems are meant to support all the regional languages thereby updating every aspect of content like product descriptions, names, attributes, categories, time, graphics, currencies, date, etc. To work properly and manage the right information across all the channels these systems need to be integrated with shopping carts and marketplaces.
The challenge: Building integration with each eCommerce platform
Each and every connection with a shopping cart or a marketplace is complicated and expensive too. Besides, eCommerce translation systems are not limited to just one connection. There are many shopping platforms available today and expanding market means to consider every platform that is relevant. Just think how tedious, time-consuming and money-wasting it would be to connect separately with each shopping platform every time.
Apart from this, integration requires high-tech knowledge and techniques to implement a seamless connection. Recruiting a developer for the same would mean additional costs. Security of information is another important matter of concern impacting the reputation of the brand and the company. It needs proper maintenance to take care of system functions after integration.
How you can easily integrate with multiple shopping platforms
For you as a localization software provider, integrations cannot be avoided but can be definitely simplified with a unified API provided by API2Cart. It allows integration with multiple shopping platforms and marketplaces such as Magento, Shopify, WooCommerce, Prestashop, Amazon, Etsy, and other platforms in just one go. No separate connections for every other platform, just one integration with API2Cart and you get access to more than 40 eCommerce platforms. Here is how your translation/localization software workflow with API2Cart can look like: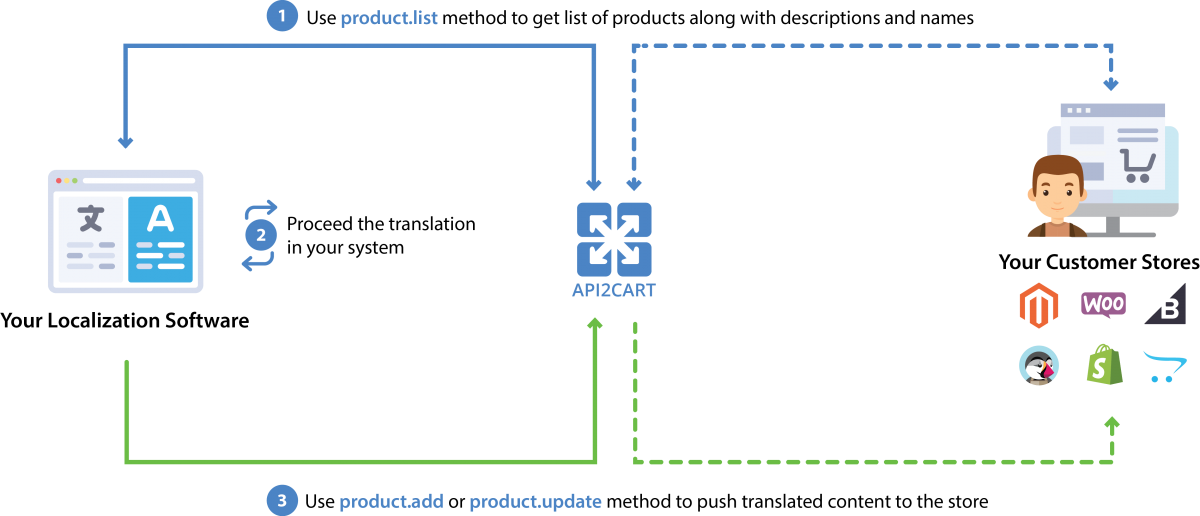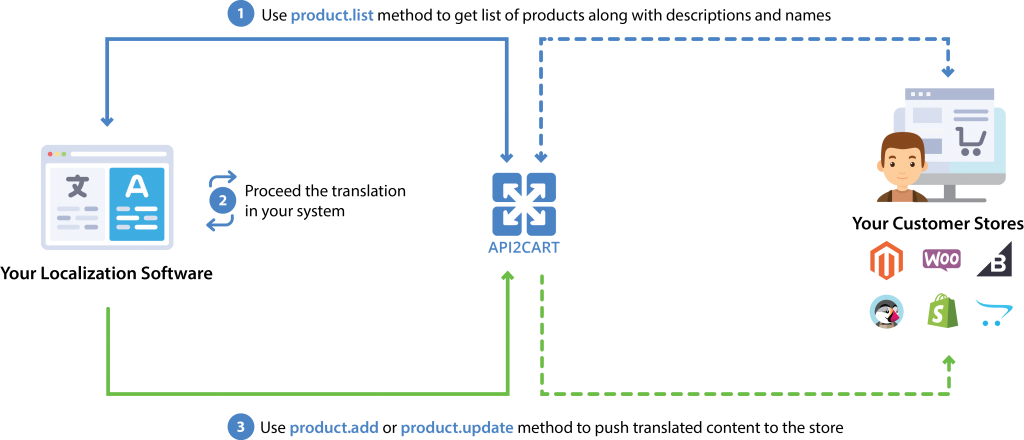 In case you need to get further details contact us or start a free trial to see how easy your software can perform integrations with multiple shopping platforms at once.