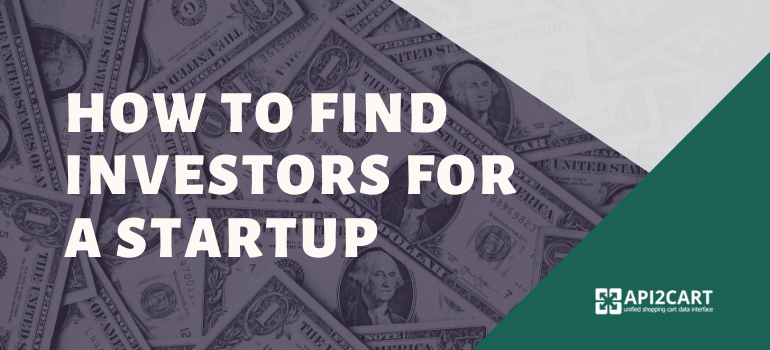 Software development sometimes can be costly. First of all, you need to have a profitable and detailed business plan for your startup and to know exactly how much funding do you need. The next and probably the most challenging step is to find investors that work for you.
Trying to get people to support your business may be tricky. Your main goal should be finding a quality investor within your industry whose expertise could take your business to the next level and multiply your chances to succeed on the market. It is an essential task because only 30% of all startups exist longer than three years and only 3% of them survive until the fifth year of existence.
That's why it's so necessary for you as a startupper to find a reliable and constant source of funding before you will be able to pay for the business on your own.
Here are some tips and tricks that could help you find the right people who will be willing to invest their money in your business.
Ways to Find Investors for Your Startup
Angel Investors

Angel investors are interested in investing their own money in startups in exchange for convertible debt or ownership equity. Usually, these investors are experienced entrepreneurs and their primary motive is to make money. Despite this, they have a serious concern about your company's growth in the industry and will have a desire to learn all the details of your business plan.

You can find Angel investors on different conferences and meetings connected with the industry your startup works in.

Main advantages: Getting money from Angel investors is not so risky as for example, tacking a loan from a bank. You do not need to return money in case your company fails. Most Angel investors know the business very well and can give a high number of valuable advice.

Disadvantages: Angel investors will need to have some control over your startup and can tell you how exactly to run the business.

Services for finding Angel investors: Angellist, Gust.

Venture Capitalists

One more way to get funds for your startup is from venture capitalists. If you succeed in receiving help from such companies you will have to return the money and bring them a profit. Venture companies like to make investments in small or middle-sized reliable startups.

Main advantages: You can expect venture capitalists to play an active role in the fast growth of your startup. VC's can provide you with an experienced specialist in your sphere that will help you with your business

Disadvantages: VC's can give you the money in exchange for the stock in the company. The process of negotiation with venture companies takes a lot of time and sometimes you will need to hire the attorney to assist in it. You can lose control over your company as venture VC's usually demand voting rights, access to all information connected with your company activity, board seats, etc.

Crowdfunding

Crowdfunding is one of the most popular ways how you can raise capital. Crowdfunding means that you can collect money for your business divided on small donations equal to 10$, 50$, $100, etc. from a significant number of people. This kind of practice can be realized with the help of the Internet.

Main advantages: Crowdfunding is the safest and the fastest option for receiving money for your startup. It gives you the possibility to find out how people react to your idea and to find out the potential customers of your product.

Disadvantages: It is tough to get onto crowdfunding platforms. If your idea failed, it could cause damage to your reputation. Before presenting your business you must protect it with a patent or copyright.

Crowdfunding platforms: GoFundMe, Kickstarter, CircleUp, LendingClub.

Bank Loans

Getting a bank loan is one of the possible ways of financing your startup. Usually, banks offer lower interest rates for business startups. The requirement for receiving the money is a good credit rating. Sometimes the bank may require you to sign a personal guarantee when you apply for a loan.

Main advantages: Unlike the previous variants to find the investor for your startup, banks don't need to have a share in your company. It means that you won't lose control over your business. Usage of money from a bank means that you will need to pay only principal and interest amount on loan.

Disadvantages: For startups that have no assets the procedure of approving their loan applications can be not so easy. If you borrow money from a bank you have to make periodic payments without delay.

Accelerator Programs

With the help of accelerator programs, the early-stage startups can get access to the potential investors, industry experts and to receive help from the experienced mentors. Business accelerators also can provide you with the possibility to use some technical and logistical resources. Usually, these programs last from two to six months.

Main advantages: You will receive valuable support and advice from people who can evaluate your business idea and needs objectively. Experienced mentors will teach you how to create a successful and sustainable business and open new possibilities for you.

Disadvantages: There is a fee for being a participant in accelerator programs.

Examples of accelerators programs: YCombinator, Techstars, 500 Startups, Startupbootcamp.
Conclusion
There are many ways how to find investors for your startup. But remember that it is also important to save money by using every possibility that can help your business to succeed faster.
In case you are a startup company and your clients are the owners of eCommerce stores, then you know how important integrations with shopping carts and marketplaces are for your business.
However, building a connection with a vast number of shopping platforms requires a lot of time, efforts and money. What's more, each integration needs further upgrading and maintenance.
With API2Cart, you will be able to connect your B2B eCommerce solution with 40+ shopping platforms such as Magento, Shopify, WooCommerce, Prestashop, Amazon and many others at once via a unified API.
API2Cart has a special pricing plan for startups and allows to use the service for 30-days absolutely for free. Stop wasting your valuable time, a huge sum of money and fantastic opportunities! Contact us for more details now.