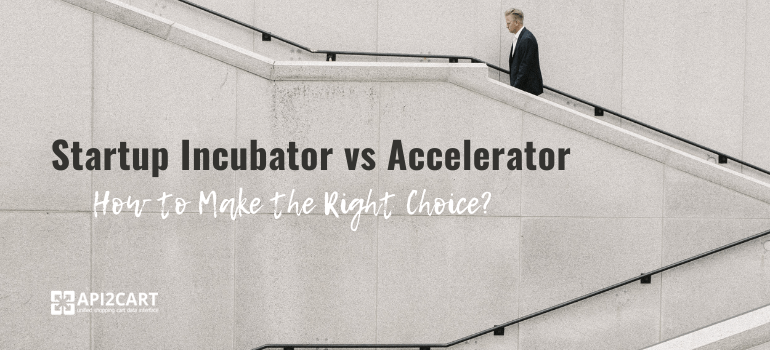 Just a decade ago, starting a new company or a business seemed to be a complicated process full of priorities, hard work, responsibilities, funding, and a lot of management tasks. But now, the scenario has changed. The startup companies have got the right track to set their business.
Incubators and accelerators have changed the way startups are establishing themselves today. The statistics are evidence of this. There are 7,000 incubators and accelerators working at present in the world.
Such a variety had led startups in confusion. They are now stuck between the choice of a startup incubator or accelerator. Both the terms are being used interchangeably in the market. Although their primary aim is to help startups pacing up their growth and development, they work totally differently.
Let's see what differs them and which one type of program is the best choice for your startup business.
What is Startup Incubator?
You have got a new idea in your mind. You have decided on what you are going to work on, and your plan is set to do wonders. What else? Execution. You have to implement your idea actually to define your startup model. To do that, you need incubators.
Incubators are long term supporters that assist startups in defining their business model and then working towards growth and development. They provide startups with the resources necessary to set up the right foundation based on their goals. Incubator programs maintain a successful relationship with companies for several years working to nourish them. Usually, incubators are run by universities, private companies, or similar non-profit organizations. The primary focus of incubators is assisting in accounting skills, management programs, office space, access to funds and capital, and office space.
Specifically, incubators are meant for those companies who have just entered the world of entrepreneurship and need the right consultation and resources to mold their idea into a proper business model. They help startups at a very stage of development. The main benefit of incubators is access to a community of similar minds with influencing connections and training to cope up with the most significant business challenges.
What is Startup Accelerator?
When startups are done with their foundation task, product establishment, business incorporation, and have got a firm grip on their market, they would now need further assistance in growing and developing their business roots. Here's where accelerators are going to help you out. Accelerators programs are for short duration, with each one of them offering a certain level of training and education.
A key characteristic of accelerators is tailored mentorship. This makes accelerators aim for one important thing; the growth of a company in terms of its value and size in the shortest possible time. For accelerators to work, startup companies need initial traction in the market, and a well-built team of founders to work deterministically. Accelerators specifically offer mentorship, connections, and capital to those startups which have significant MVPs (minimum viable product) for further achievements.
One important thing that you should keep in mind is, accelerators demand few percents of equity in your ownership in exchange for their programs. You should approach accelerators if you are comfortable with this.
Which One to Choose?
It is crucial for startups to have a clear thought on choosing either an incubator or an accelerator for their business. It is, therefore, recommended for startups to realize their goals and then understand the main differences between the two before stepping ahead to the decision.
While incubators provide startups with resources having diverse options, accelerators mentor them on a specific kind of product or technology and then offer specialized training on the same. The second thing you would consider is the time difference. Incubators let the startups avail a collaborative long term experience, but accelerators are only for short term. Accelerators may have strict terms and conditions for the startups they are going to help, whereas incubators do not define clearly what they want.
To decide whether to look for an incubator or an accelerator, you have to gain in-depth insights into your business. You have to analyze what exactly you need for your startup and where does it stand in the market. The structure of your startup must be clear to you. Your founders, customer base, and future investments; all should be well-defined.
You must answer the questions like; are you still looking forward to implementing your idea or wish to grow your funds, capital, and build connections with investors and other influential people? If you only need funds to gear up your market growth and have significant traction in the market, you better go with an accelerator. Else, if your company still needs a perfect business model and you are a solopreneur, then you need an incubator.
---
In case, you are a startup eCommerce SaaS business, then you may be thinking about how to expand your business and get more clients. However, as you deal with shopping platforms, developing each integration with one of them involves spending a lot of time and money. A much better alternative is to use a ready-made solution like API2Cart. Using it you will be able to easily integrate with 40+ popular eCommerce platforms and never worry about developing separate integration.
The scheme is simple: you integrate once with API2Cart and get access to 40+ shopping carts and marketplaces such as Magento, WooCommerce, Prestashop, Amazon, Etsy, and many others.
What's more, we have a special pricing plan for startup businesses.
Contact us or try a free 30 days trial to see how easy integrations with eCommerce platforms can be.