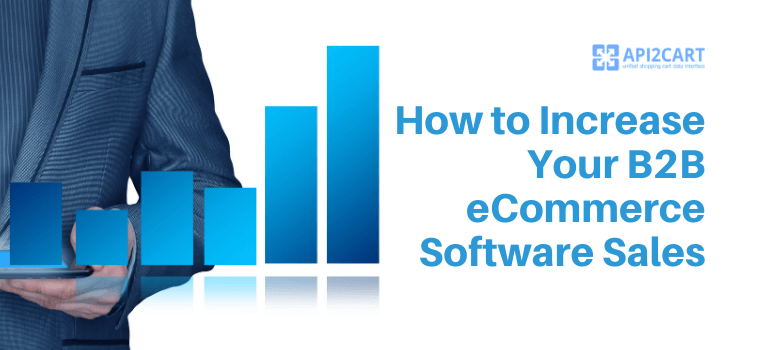 For you, as a B2B eCommerce software provider, it is vital to constantly increase your sales. This task can be not so simple because you have to connect not with a single person but with the team of decision-makers. Your prospective clients can have different needs and requirements. That is why your company must demonstrate the value of its product and make continuous improvements connected with its eCommerce software features.
So, are you looking for opportunities to increase your sales and expand your market share dramatically? API2Cart prepared some of the best practices in your eCommerce software business to take it to the next level.
Top Tips to Increase Your B2B eCommerce Software Sales
Publish the information about your company on software comparison websites

Buyers have a common tendency to compare everything before they decide to buy it. They like to explore their preferred eCommerce software and similar products to see which one is more efficient. That is why it is recommended to publish the information about your software on all the websites that contain reviews of companies similar to yours.

The top software and services review sites: G2 Crowd, GetApp, Capterra, TrustRadius, Software Advice, IT Central Station, etc.

Improve your website

The website remains at the heart of every eCommerce business. People land on your website after finding you in Google search results. It means that your eCommerce software has already been shortlisted for a purchase.

Your website should be appealing to the visitors and impress them with excellent design and easy-to-use navigation. It increases their activity on your website as well as the chances of your product being sold.

Your company website should be mobile-optimized, easily accessible to everyone and has a fast load time.

Chat with your users with live chat

It is an excellent option to have a section for FAQs on your website. Relevant content also serves as a good medium to answer customer queries. Still, some sort of personalization is required while selling your products. According to some studies, more than 70% of website users prefer to use a live chat for finding the desired information.

Create lead magnets

Think of something that can present value of B2B eCommerce software to your potential clients and attract them to your website? We recommend you to create lead magnets and publish them on your website.

Increase website traffic with paid ads

Online advertising has created a revolution in the past few years. Businesses are now getting potential leads for their sales by investments in paid ads.

Google Ads, Facebook Ads, Instagram Ads, etc. are common platforms for creating and placing engaging text and video content. These ads help in increasing website traffic, and at the same time, ensure that visitors convert into a lead and then into potential buyers to trigger your sales.

Create interesting video content

Video marketing significantly influences a buyer's behavior in all the stages of their journey - awareness, consideration, and conversion. Stimulating videos connected with your company can attract people to your website and increase their attention to your eCommerce software. Usually, clients prefer to watch videos lasting for no longer than 30 minutes.

These videos posted on the social media channels as Facebook or YouTube compel the clients to take further actions on your website.

Use marketing automation

Marketing automation is the innovation that has turned imagination into reality. With the increasing number of email addresses and the need to share company news with existing and prospective clients, marketing automation has played a significant role in managing time and efficiency of the sales team.

Moreover, it enables you to segment your customers and send different types of content to them.

Integrate your software with multiple shopping platforms

Integration with various shopping platforms means that your B2B eCommerce software will be able to expand the number of potential customers by several times. Now it is not enough to be connected with a few popular platforms like Magento or Shopify. If you want to raise your sales you need to have the integration with Wix, OpenCart, BigCommerce, 3dcart, eBay, Amazon, Etsy, SalesForce Commerce Cloud, PrestaShop, Volusion, X-Cart and many others.
Conclusion
Shopping cart integration is one of the most significant pain points for B2B software providers, because of its technological complexity, time and money consuming. That is why many companies as yours choose to provide integration with the help of third-party service.
API2Cart provides a unified API to work with 40+ shopping carts and marketplaces. It is the best option of how you can reduce your costs and expand your market share dramatically.
If you are interested in the raise of your sales and integration with multiple shopping platforms, schedule a call with our expert and try how API2Cart would work for your business right away.