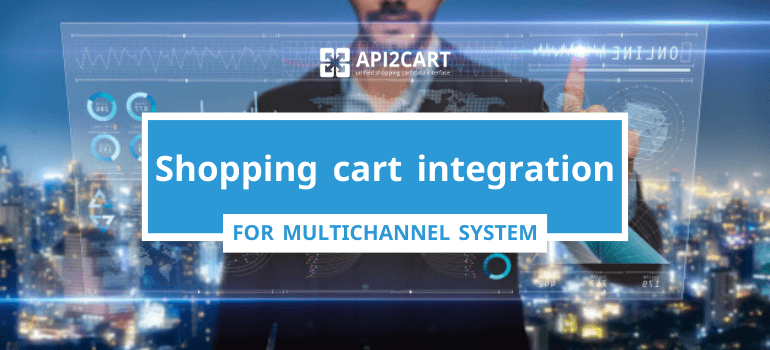 Multichannel system providers need to do an astounding job to enable their customers who sell through several sales channels to control all the data and simplify their processes. Merchants are looking for multichannel software to tackle the inventory mess, enhance the shopping process, fulfill orders efficiently and make accurate cross-channel reports.
As a multichannel software provider, you need to ensure that you offer superior services to your clients who need to automate their business activity. You have to make it easy for them to stay in control of their inventory, prices, fulfillment, stocks, and sales.
Owners of eCommerce stores are looking at you to help them overcome their challenges and allow them to become more competitive on the market. However, the multichannel system can't be useful and successful without the integration with various shopping platforms.
To do that, you either need to perform each integration manually or use a unified shopping cart API provided by API2Cart.
So, let's explore the importance of shopping cart integration for multichannel system providers.
What is Shopping Cart Integration?
As a multichannel system provider, you must connect with numerous shopping platforms to gain an edge in your niche and offer superior services to your clients. This process is known as eCommerce integration or shopping cart integration, allowing you to tie your software with different marketplaces and shopping carts.
When integrating with a new platform, you can easily access valuable information from the online stores based on it. It includes the data connected with orders, shipments, products, customers, and invoices. You can gain accessibility into your clients' stores and offer them your software functionality for optimizing their processes.
Shopping cart integration is a must-have for those multichannel software providers who aim to expand the number of their customers and increase the revenues.
What are the Benefits of Shopping Cart Integration for Multichannel System?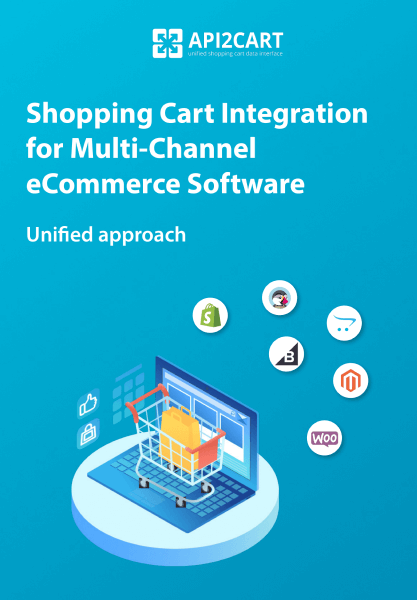 Shopping Platform Integration for Multichannel Systems
Explore how to develop the integration with multiple shopping solutions easily.
DOWNLOAD
Your multichannel software can significantly benefit from integration with multiple marketplaces and shopping carts. It needs to be able to successfully manage all necessary data for providing core functions to the customers.
By integrating your software with shopping carts, you can easily retrieve product lists, create and update prices and listings on different sales platforms, control shipping and inventory levels, create up-to-date reports, and manage orders throughout the buying stages.
The benefits of shopping cart integration for multichannel system business are vast and include:
Greatly expanding your customer base by tapping into the eCommerce stores that use platforms like Woocommerce, Shopify, Magento, Opencart, PrestaShop, and others.
Enables your solution to efficiently work with retailers to manage their information and streamline the processes.
Boosts your profits and ROI: things are simple. You'll get more customers, which will automatically skyrocket your revenue and profits, enabling you to expand in new markets and verticals.
What are the Main eCommerce Integration Difficulties you can Expect?
No doubt integrating your system with dozens of shopping carts and eCommerce platforms is not as easy as one might think.
Most SaaS app providers experience 5 main difficulties during the process of shopping cart integration:
Security risks. Hackers and cybercriminals can easily penetrate networks and steal precious data. These cyber-attacks may negatively impact the company's finances and reputation and may also lead to costly lawsuits and long-term issues. What's worse, data breach methods are becoming increasingly sophisticated, which means that poor integration is a sure way towards failure.
Technological complexity. Another difficulty of the integration process lies in the fact that developers require a high level of expertise. They also need to be aware of the latest API integration trends and understand the API architecture aspects of various shopping platforms.
High costs involved. API integration with various shopping platforms and marketplaces is a costly process. For quality integration, you will need a team of highly qualified developers whose work costs a thousand dollars per month.
Time-consuming. Each shopping cart integration takes a lot of time, usually more than a few months.
Constant maintenance. Lastly, you need to realize that integrating your system with shopping platforms is just the beginning of the story. The constant maintenance takes its toll on your finances and requires daily debugging together with constant upgrading.
How can API2Cart Help your Multichannel Business Integrate with Shopping Carts?
Now, you probably are well aware that setting up a connection with multiple eCommerce platforms and marketplaces takes a whole lot of effort, time and money. Additionally, integration needs further maintenance and upgrading, plus constant supervision and increasing costs.
However, you can avoid these difficulties and gain the peace of mind that your platform is secure and safe from cyber-attacks. API2Cart offers you a unified API that seamlessly integrates your multichannel system with over 40 eCommerce platforms like Magento, PrestaShop, Shopify, WooCommerce, Bigcommerce, eBay, Amazon, etc.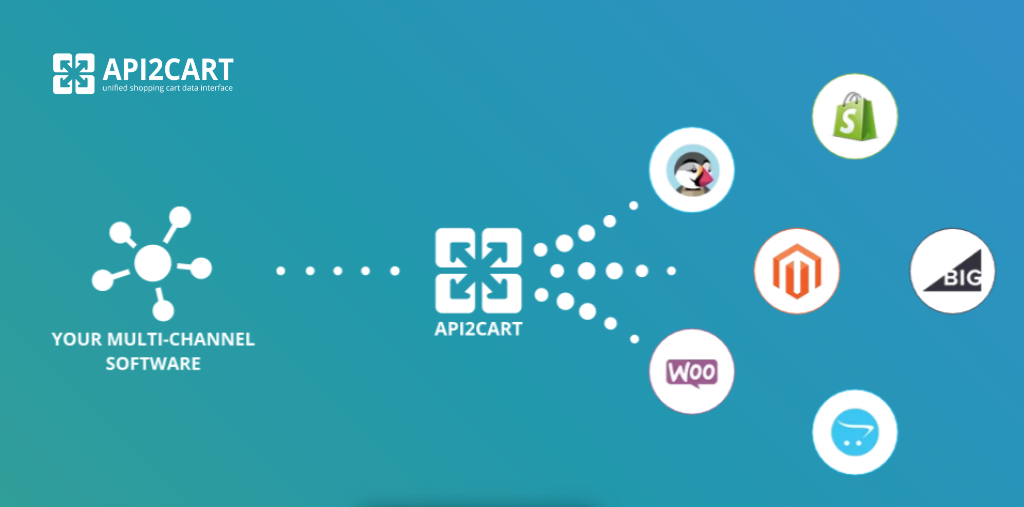 We offer an impressive number of features to help you reap all the benefits that come after a successful shopping cart integration. We come with over 100+ methods to manage your clients' store data connected with product listings, currencies, inventory levels, orders, shipments, etc.
We also offer flexible pricing to all our customers and provide you with a 30-day free trial period. During this time, you can use all of our features so that you can see for yourself how powerful our service is and how useful it is for your multichannel software.
If you want to learn more about API2Cart, do not hesitate to contact our managers.