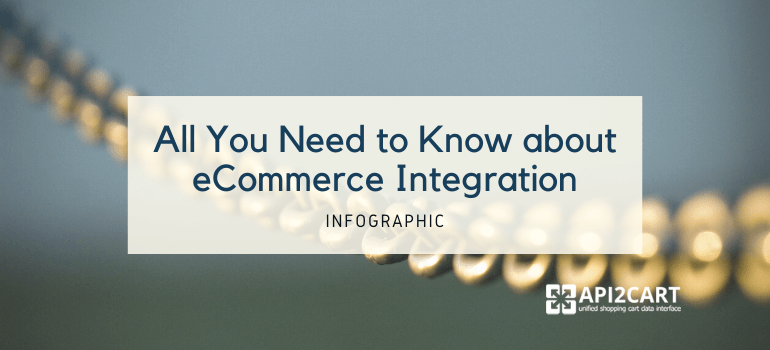 Today, modern shoppers expect seamless shopping experience on different sales channels - from brick and mortar stores to online stores, mobile phones, social media, etc. However, with the growth of eCommerce sales, it often becomes harder to manage the volume. That is why merchants rely on B2B SaaS solutions such as order management, warehouse management, shipping, omnichannel and multichannel systems, and many other solutions that automate their business processes.
A robust eCommerce integration is the lifeblood for such type of software as incorrect and different information on sales channels can negatively affect eCommerce businesses.
The infographic below shows key things about eCommerce integration namely what is it, why it matters for B2B SaaS companies seeking to scale, and much more.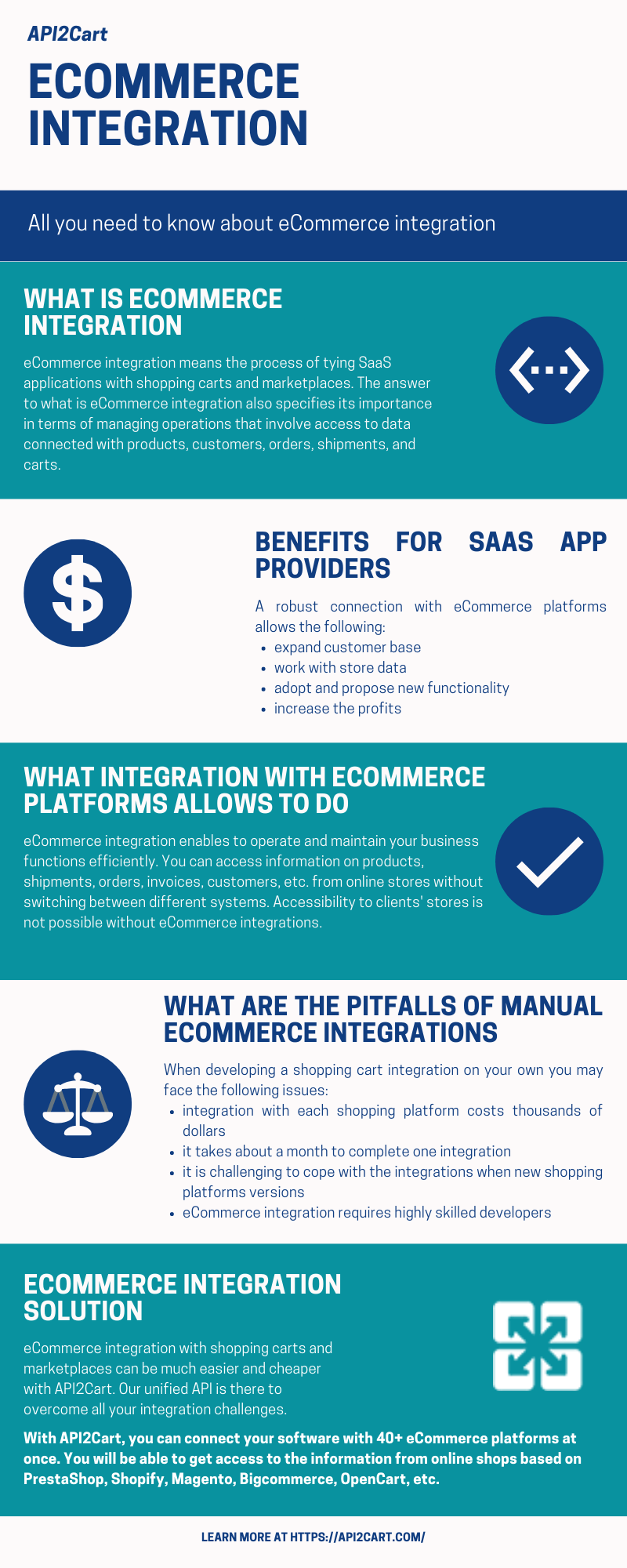 API2Cart as a Reliable Assistant in the Process of eCommerce Integration
API2Cart is an effective tool that helps to solve the problem of eCommerce integration. It provides a well-documented and fully supported API platform to perform data interaction between your business soft and 40+ shopping platforms in no time. The service supports such popular eCommerce platforms as Magento, Shopify, WooCommerce, OpenCart, BigCommerce, PrestaShop, Loaded Commerce and others. It enables you to retrieve all the necessary information and operate with orders, products, categories, customers, etc. You can also add a decent number of stores to your store directory. If your needs grow even bigger, we are always here to discuss them. To ensure integration security, the service uses SSL certificate together with a 32-symbol API key to access the system.
API2Cart has everything to help you boost your business if you work in such eCommerce spheres as e-mail marketing, mobile commerce, inventory management, order management, warehouse management, dropshipping, and others.
If you have any questions concerning eCommerce integration via API2Cart, do not hesitate to contact our representative by clicking the button below. Or schedule a call at your convenience.