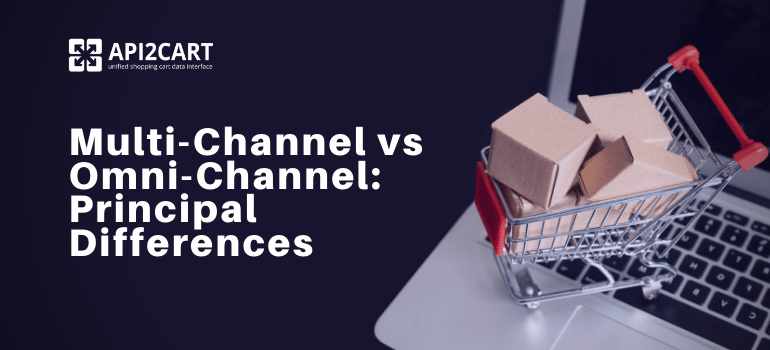 The new technology always comes with the wave of terminology which must be explained. "Omni-channel" is a comparatively new term that is often confused with the more common one "multi-channel". Though close in meanings, they are not synonyms and have some important distinctions.
Before we explain their differences, let's point out what these terms have in common: they both denote marketing strategies that imply using multiple channels to reach and interact with potential consumers.
What is Multi-Channel Retail?
Multi-channel retailing is an eCommerce strategy that offers customers the choice to buy products on various platforms. Just recently, selling multichannel meant having only brick-and-mortar and an online presence. Now this strategy involves using different online platforms to sell and promote goods or services.
Common sales channels are marketplaces, social media, comparison shopping engines, etc.
Marketplaces are probably main additional source of revenue for online retailers. On average, online store owners who also sell on just one marketplace make 38% more revenue than those who sell exclusively on their webstores. Those who have two marketplaces make 120% more revenue.
Around 48% online shoppers begin a product search on Ebay, Amazon and Rakuten.
Comparison shopping engines (CSEs) channel allows you to place your product information on CSEs sites and thus, give an opportunity for a shopper to choose the best price among the offered online products.
Social media was previously just a part of awareness stage, but nowadays it may serve as a standalone sale platform. Visitors can buy items on several platforms such as Facebook, Twitter, Pinterest and others.
Omni-Channel Retail: Seamless Customer Experience
Omni-channel goes beyond the possibilities of multi-channel and represents a new concept of interaction with the buyer. Omni-channel approach to the customer service is about providing integrated, and thus seamless customer experience throughout the whole client's route. Integrated communication channels make it possible for customers to switch from one channel to another since the context is connected to facilitate interaction.
A good example of a company that provides customers with an omnichannel experience is Nike. Their customers can buy products online and pick them up at a store, or to buy in-store and get it delivered to the home, or to order and pay at one store and pick up later at another one.
To implement such practice, Nike had to invest heavily in optimizing its supply chain and integrating all warehouse and order fulfillment related operations.
Making every moving piece of omnichannel strategy work together perfectly is not an easy task. Omni-channel requires significant investments in tools and technologies, motivation and training of the client-oriented staff, building seamless communications with customers and working with large data. For a large retailer, this is a long-term investment, and there is no immediate effect.
Multichannel management is a part of the omnichannel strategy. The difference lies in integration and connection between the channels.
What is Needed to Sell Multichannel?
Multichannel retail must involve a good strategy to rein in all channels and create free-flowing, accurate operational processes. Handling all inventory and operations on multiple channels is very difficult without specific software.
Multichannel software allows retailers to coordinate and control orders, prevent overselling, automatically update prices, product listings, etc. from a single interface.
Multi-Channel Software and Shopping Cart Integration
To perform functions outlined above, multichannel software has to be integrated with shopping carts and marketplaces. The integration makes it possible for the software to work with databases of stores. The more shopping carts multichannel software is integrated with, the more potential clients it may have.
However, getting connected with a platform is not an easy task. It is a difficult, long-term and expensive process as you will have to spend a lot of money on integration with each platform separately. What's more, even if your software is connected with a shopping platform, you still need to constantly maintain and upgrade your integration. To do all this work internally is a real burden for the company.
The better option, in this case, is using unified shopping cart API, provided by API2Cart, which helps to avoid major challenges.
API2Cart makes it possible for multichannel software to do the following:
integrate with more than 40 leading shopping carts and marketplaces such as Magento, Amazon, Ebay, WooCommerce, Bigcommerce, and others
avoid the problem of separate connection with each shopping cart and marketplace
distribute products list to all the platforms
control inventory stock levels and update prices on all platforms
API2Cart provides methods to work with products, categories, prices, orders, which make it possible to retrieve and manage the database data from the stores as you need it.

To get know more about how you can integrate your multi-channel software with multiple shopping carts and marketplaces via API2Cart, click the button below.