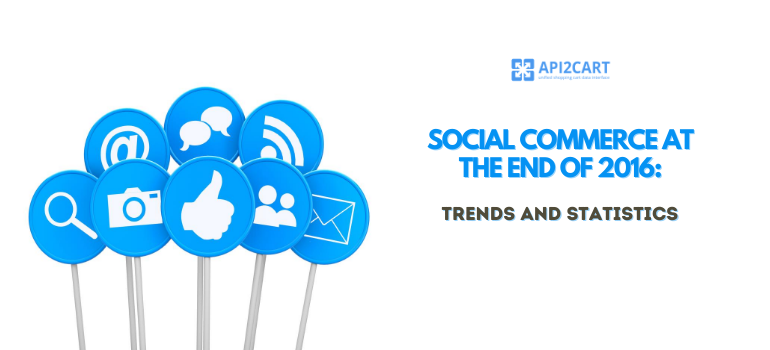 Technology is affecting the way we communicate and do business. For instance, selling products has evolved from brick-n-mortar stores to e-commerce websites, and now to social media.
E-commerce and social media are constantly developing: the average customer spends approximately $1.800 on shopping every year. The worldwide revenue of ecommerce in 2016 amounted to almost 1,183 Billion USD, and it is expected to grow at a compound annual growth rate of almost 10.72 percent. This can result in a market volume of 1,777 billion USD by the end of the year 2020.
Consequently, the e-commerce and social media progress led to the big boom of the social commerce. 52% of marketers believe that social commerce is one of the most important areas of investment. For instance, Facebook's ad revenue increased by more than 42% from 2014, and it is expected to reach almost $27 billion dollars by the end of 2017. To give more statistics, 73% of people who have tried social buy buttons say they would do so again.
Since consumers prefer to stay on the social media page when trying to purchase or learn more about a product, there is a need for simplification of the buying process. Thus, retailers and social networks are partnering to provide customers with a more convenient online shopping experience – buying a product directly on a social platform. As a result, retailers can use social media to turn strangers into friends, friends into customers, and customers into salespeople.
What is Social Commerce?
Shopping has always been a social process. The reason that malls are still alive along with e-commerce is because they offer much more opportunities than just buying things. Offline shopping serves a significant social function: people gather together not just to make purchases but also to communicate and have fun. With the significant raise of smartphone and social media usage, online shopping is becoming more social, and social commerce has found its way online.
There are so far four social networks that offer the social commerce space: Facebook, Twitter, Instagram, and Pinterest. The study by Marketing Week shows that Facebook is the most popular platform for direct purchasing. 19% of all survey respondents prefer to buy items directly on Facebook network. It is followed by Twitter with 10% of people who would like to make purchases on this social platform. The next are Instagram - 9% and Pinterest - 7%.
Within the Facebook platform, business owners can build "Shop Now" stores and use Messenger to communicate with customers before, during, and after the purchase. Facebook enables retailers to run product catalogs by adding all the necessary item information, to manage orders, and to perform payment transactions right on the platform.
Facebook comes with an opportunity to store the credit card information. In such a way there is no need to enter the data every time a person makes a purchase, which simplifies the procedure for both the buyer and the retailer.
Twitter also provides the possibility to carry out payment transactions directly from the platform. For this purpose, the platform offers its "Buy Now" button. Just as Facebook, Twitter saves payment data so buyers don't need to enter this information every time they place an order.
The "Buy Now" button also works for retargeting campaigns. With its help retailers can display the ads to people you have visited the product page on their website.
In 2015, Pinterest launched buyable pins. According to Shopify research, the average order value of sales coming from Pinterest platform is $50, which is higher than other social networks. 87% of survey respondents that use the social platform indicate that it helps them decide what to buy.
The number of Pinterest users is constantly growing: 73 million users log into Pinterest each month. This makes it a valuable source of targeted traffic and, thus, revenue.
Instagram was one of the first to introduce a call to action tools, buttons as "Shop Now" and "Install Now", but this is not all that the platform has to offer. Video ads, photo ads, and carousel ads are what retailers can use to attract and convert customers too. Companies can also publish shoppable galleries so that their consumers could learn more about the products they'd be interested in buying.
Social Commerce Trends to Stay in Line with
User Generated Content is Crucial
Social media is a space where people can research, share, discuss, and purchase products and services. If the official brand content is talked about, the level of brand involvement and conversions will significantly increase.
Reviews are the inseparable part of effective social commerce. Buyers count on product reviews that serve a decision-making purpose.
According to the research, 71% of customers prefer to buy an item if referred by a friend on a social platform. To give your customers community-based proofs, integrate reviews and ratings into your social commerce campaign.  
Social media channels make it simpler for business owners to call attention to their products, including because the products can show up when potential customers are watching videos.
YouTube, for instance, has launched the pre-roll ads that enable customers to make a purchase right from the window. When an image is worth of thousand words, according to Forrester Research's Dr. James McQuivey, "a minute of video is worth 1.8 million words." Video is a powerful conversion trigger and one of the most important social commerce trends to follow.
The Importance of Post Timing and Frequency
Though some social platforms, including Facebook, have limited the organic reach of user generated content, it is possible to use free methods to attract attention to the posts. Timing and frequency of the posts play an important role in the world of social commerce marketing. Thus, by publishing your content at the right time and right frequency you'll reach more people, which means more interaction, more engagement, and, consequently, more sales.
The best time to post on Facebook is between 1PM - 4PM on Wednesdays. To get the best Instagram reach, post on Wednesdays and Thursdays between 2PM - 5PM.
Social E-commerce Integration: Difficulties and Solutions
To enhance sales opportunities for e-stores and engage more consumers, who will spread the word about the brand via social media channels, retailers need to build and manage personalized customer experience across all sales channels, including shopping carts, marketplaces and social media platforms. Thus, social commerce software needs to provide the synchronization of all these systems, and shopping carts are paramount for social commerce software, because they are where e-commerce begins. It should be mentioned that the process of integration with shopping platforms is highly complicated. It takes lots of time and resources on developing and supporting multiple integrations.
Fortunately, there is an effective solution to this problem. API2Cart provides a single API to establish data interaction between your social commerce soft and 40+ shopping carts. With API2Cart you can work with all leading solutions including Magento, WooCommerce, Bigcommerce, OpenCart, Shopify, and many others. Due to flexible and scalable infrastructure API2Cart allows to integrate a great number of clients' stores via API2Cart.