Shopping Cart Integration for Repricing Systems: Why's and How's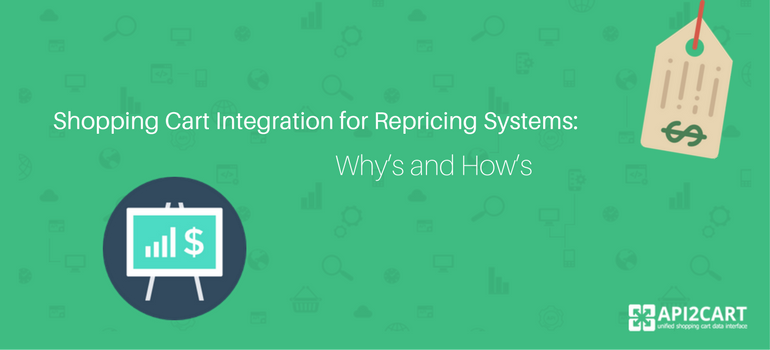 E-commerce develops rapidly, creating a highly competitive environment for industry players. To stay afloat, it is important to use a thought-out repricing strategy. It includes monitoring and comparing rivals' prices and thus setting the most optimal offers on the market.
The Golden rule of life: Never underestimate your rivals. (Sid Waddell)
Constant price monitoring and optimization is quite a difficult and tedious procedure if performed manually. But the progress does not stand still, and there emerged special price optimization software systems, designed to automate price optimization processes and make it far more efficient.
There is a number of reasons that drive retailers to use this tool, and the ability to adjust their prices to market demands is, undoubtedly, the crucial one. Repricing solutions make it possible for merchants to gather competitors' prices, automatically update their own's, perform A/B testing, make reports, etc.
To carry out the functions depicted above, repricing systems need to access web stores and get their price details. To get the access to web stores, you need to establish a connection with the shopping cart, on which that store is built. The best way to set up an ongoing connection with the the online store is to integrate with the shopping cart.
Integration is hard
The thing is, API integration is a difficult and expensive process, which implies considerable time & money spendings and dealing with many challenges. First, finding qualified and experienced developers is hard. Second, elaborating just one integration costs a few thousands of dollars and takes up to four weeks. Third, every platform is unique, so every next connection will take no less time and resources than previous ones. What is more, after the integration module is ready, it needs an ongoing maintenance and upgrading.
All in all, integration with multiple platforms is a lengthy and intricate process, as well as it is pretty expensive. However, there is an alternate route that makes it possible to bypass the tedious work that developing integrations involves.
Don't work hard, work smart
Integration with a bunch of shopping platforms can be performed with help of API2Cart. It is a data integration solution, which provides a single API for repricing system to interact with 30+ shopping carts, including Magento, WooCommerce, BigCommerce, Shopify, OpenCart and other leading carts. Also, with API2Cart you don't need to spend the time and effort to create and maintain all these connections. API2Cart allows you to focus on your business, rather than on integrations.
If you run a repricing system or other B2B e-commerce software and are interested in trying API2Cart, you can create an account and see how the API works on live stores or schedule a call with our representative.