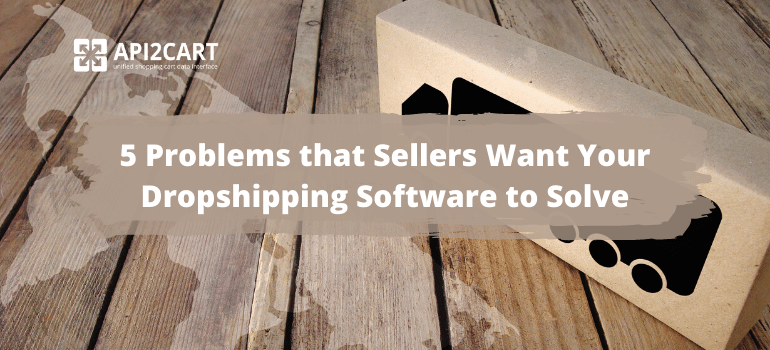 Dropshipping business is viable and relatively easy to get started. As to wholesale suppliers, they concentrate on crafting, inventory, and shipping issues while distributors handle sales and distribution. The latter don't risk their money when opening an online store and don't have to worry about inventory and fulfillment hassles. All that is left for them to do is to sell products, take orders, and make a profit.
Though dropshipping is far not so easy as it may seem at first sight. There are also many pitfalls and difficulties in such business. We have outlined 5 main problems distributors face and defined what dropshipping software features can solve them.
Problem #1: No Control Over the Inventory and Order Fulfillment
Dropshippers have little control over the customer service since they are not in charge of product fulfillment and just cannot directly influence the delivery time. They also highly depend on suppliers' accuracy in inventory updates.
Solution: Real-Time Inventory Level Synchronization
Synchronizing distributors' inventory levels and orders with suppliers' and automatically updating data on the retailers' storefronts can significantly improve the situation. At least, retailers will know what to expect and customers will see if the items or sizes/colors are unavailable.
Problem #2: Choosing the Right Vendor to Send the Order To
Defining which supplier to choose is best on the criteria of availability, pricing, and the location is tedious work, and so is splitting orders across multiple vendors.
Solution: Order Management Tool
Automated order management capabilities, built into the dropshipping system can be very helpful to customers. Using logic-based order routing rules to sort out orders according to different scenarios, such as cost-based routing, split orders, or location routing, can automate and streamline order management routine.
Problem #3: Many Vendors, Many Methods
Every distributor organizes data and the working process in their own way: different files,  formats, and methods. Adjusting to the various feeds and decoding the jargon every time can be very annoying.
Solution: Standardising Data
This function is very important to provide connectivity across multiple vendors.  Automated formatting, optimizing vendor feeds and the ability to simultaneously exchange data via multiple methods (email, FTP, etc.) - are what dropshippers need.
Problem #4: Growing the Network Uncontrollably Can Lower Profit Margins
Working with multiple distributors can lower already tight margins. Extending the network with new retailers increases risks because of the chances of unprofitably routing orders, sending backorders and adding overhead to manage operations increase with each new distributor.
Solution: Managing the Backend Within a Single System
Full backend automation can streamline the order lifecycle and minimize the risks of order and shipping issues.
Problem #5: The Supply Chain is Constantly Changing
Adding and changing dropshippers are inevitable in this kind of business. Each time the vendor expands or changes the product offering, they have to face integration complexities that take a too long time.
Solution: Integrability
Built-in communication methods such as FTP, email, an API can significantly improve collaboration with business customers, commercial partners, and suppliers. Integration with multiple shopping carts is what enables seamless data exchange and synchronization between multiple distributors using different shopping carts. What is more, it allows dropshipping software vendors to work with any online store built on one of supported shopping carts. This considerably expands the number of potential customers, because they are more likely to choose a service that supports the platforms they use.
In case you run a dropshipping software system, consider integration with shopping carts via API2Cart instead of developing separate connections with each platform. It provides a unified API for seamless integration with 40+ shopping platforms. It will help you save time, money and efforts on multiple integrations.
You can try how unified integration with shopping carts will work for your business or schedule a call with our expert.