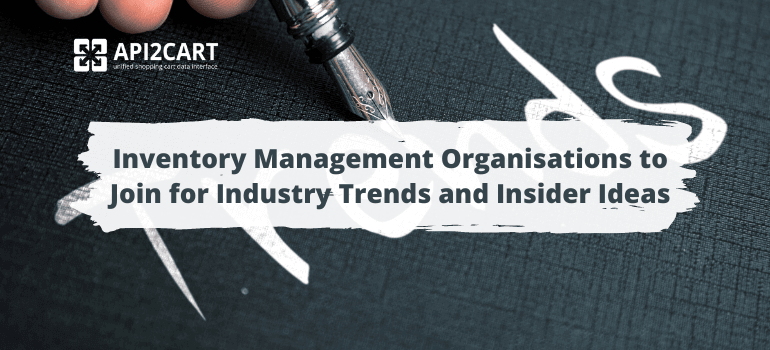 If you own an inventory management service, or your business is closely interrelated with this industry, partnering with inventory management organisations is always a great idea. Practically all industries have associations that bring together specialists who share goals, challenges, and interests. Members of industry organisations may have different specializations, which only makes finding solutions easier. That is why those, who are looking to enhance their business performance or solve any business problems are more likely to find new ideas and solutions in such communities, rather than while working in isolation.
The Benefits of Being a Member of Inventory Management Organisations
Being a part of such association is beneficial in a number of ways. In particular, it gives you opportunities to do the following:
highlight progress achieved;
share and learn from each other's experiences;
strengthen your business expertise;
network with existing and potential partners;
create synergies among partnerships.
Membership in the right organisation opens the door to a plethora of knowledge and expertise.  You will get many networking opportunities, information and resources at your disposal. There may come additional benefits, such as getting some helpful services that include new products, education opportunities and support.
If you register as a business instead of as an individual, your employees can also take advantage of the tools, educational programs and resources, provided to all members. Many organisations share information on upcoming seminars, conferences, business development courses and other industry-related programs, which might be useful for you and your team.
When choosing an inventory management organisation to join, keep in mind the following:
The group you are going to join need to be trustworthy. You can check it in the Better Business Bureau or other industry accreditations.
There are some inventory management professional organisations that require membership for certification, though many of them don't.
Most organisations have a paid memberships, so make sure that it worth that money before you pay.
Below are some links to inventory management organisations you may like to join:
APICS - The Association for Operations Management
WERC - Warehousing Education and Research Council
ISM - Institute for Supply Management
MHIA - Material Handling Industry of America
NAM - National Association of Manufacturers
CSCMP - Council of Supply Chain Management Professionals
SOLE - The International Society of Logistics
IWLA - International Warehouse Logistics Association
MFSA - Mailing & Fulfillment Service Association
ISTA - International Safe Transit Association
Inventory Management Forums
Another great source of knowledge are web forums dedicated to inventory management and warehouse operations. There you can raise any question and get qualified answers from other experts. Some of them may have different visions on subjects, which is good as it sometimes allows to see the whole picture or get a timely alternative suggestion.
Here are some links on web forums on inventory management that may interest you:
Yahoo Groups Distribution Inventory Control
Yahoo Groups Materials Management
Yahoo Groups Continuous Improvement
Yahoo Groups Lean Manufacturing
In case you own a B2B software for inventory management systems and are interested in getting connected with shopping carts, consider integration with API2Cart. You can try how it will work for your business. If you have any questions to ask, schedule a сonsultation with our expert by pressing the button below.