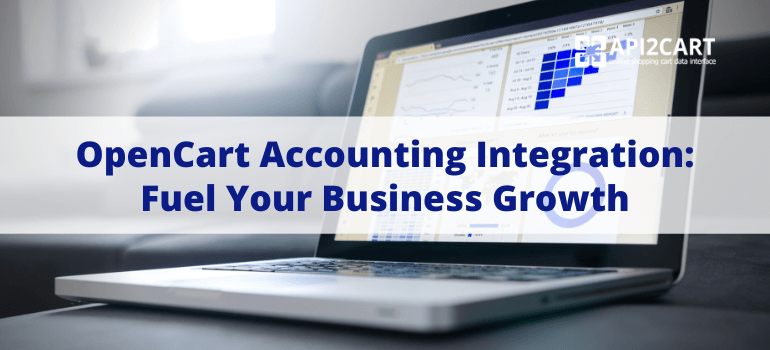 The world is evolving and the times are not as they used to be. We're living in the era of eCommerce, and the popularity of online retailing is growing rapidly. Almost every brick-n-mortar store is presented on the web and makes sales through the Internet. Eventually, the number of e-retailers grows and this niche becomes very competitive. That's why in order to stand out of the crowd they strive to use all the possible sales channels. It is pretty tough to keep a record of accounting transactions and compile financial reports for each channel separately. So, the more sales channels merchants implement, the more challenges they meet. That's why e-retailers start looking for qualified help, and accounting software providers are the ones who can provide it.
Accounting System as a Magic Bullet for E-Retailers
Accounting systems are efficient tools that allow web store owners to take a deep breath and forget about financial worries. Such services give e-retailers an opportunity to carry out accounting transactions and handle payable and receivable accounts. It means that store owners don't need to manage separate financial and cost-accounting records, and thus they save their time and accelerate work process.
Accounting services also encounter some problems that hinder them from providing eСommerce merchants with an excellent service. The main one is that e-retailers build their web stores on different shopping platforms. Every shopping cart has its unique way of data storage, so software providers need to develop integration modules for each of them separately. That is a serious challenge that costs a pretty penny to overcome. What is more, integration is a time-consuming process because B2B owners will need to find experienced people to develop such integration modules and maintain them after they are done.
As an accounting system vendor, you might be confused by the huge number of shopping platforms presented on the market. If you wonder which one to integrate with first, take into consideration OpenCart.
Why OpenCart?
Why should you choose OpenCart? Because it is one of the most widely used free shopping carts that provides e-retailers with a professional and reliable foundation to build their web stores. It already powers more than 340k online shops all over the world, and this number continues to grow. Integration with this eCommerce platform can bring accounting services to thousands of potential clients, expand its functionality range, and increase profits. However, just as with other shopping platforms, it is not easy to perform it. Luckily, there is a way to connect to OpenСart without extra effort and in the shortest terms.
A Helping Hand for B2B Providers
API2Cart is an online service that helps accounting, repricing, analytics and other system providers to overcome the challenges of getting connected to OpenCart without extra effort. Moreover, thanks to its unified API it gives you a possibility to simultaneously integrate with 40+ other shopping carts while performing integration with OpenCart. In the list of platforms you can get connected to are such big market players as Magento, WooCommerce, X-Cart, Shopify, BigCommerce, and others.
With API2Cart you will be able to:
integrate with OpenCart and more than 40 other shopping carts via one integration;
get info on product and order quantity to make reports in a wink;
extract data on placed orders to produce comprehensive analysis on how their business is doing;
retrieve orders with related information to manage bills and payments easily;
perform product count to establish inventory control;
get sales total in order to offer a qualified review.
Leave your doubts behind and move your business forward by performing OpenCart accounting integration and get connected to 40+ other shopping carts as a bonus. In case you have any questions, don't hesitate to schedule a сonsultation with our expert.