Shopify Inventory Integration: Touch the Heights of Success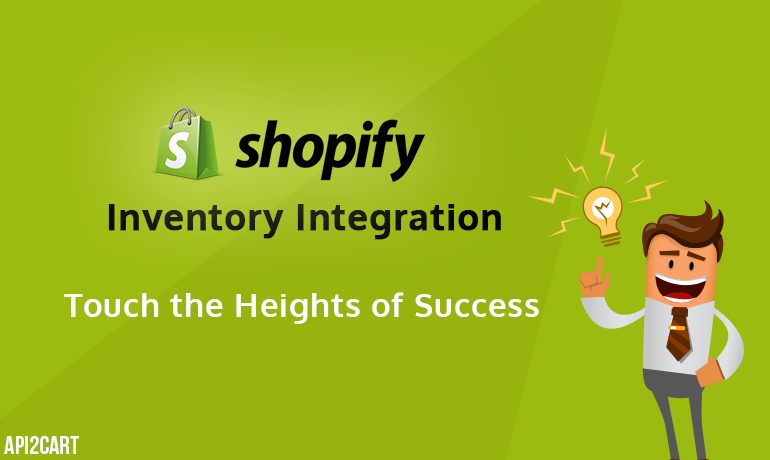 Nowadays, e-Commerce has become one of the major activities conducted over the Internet. The number of businesses that start their own web stores is increasing rapidly every day. The benefits of e-commerce include: around-the-clock availability, the speed of access, a wider selection of goods and services, accessibility and international reach. Almost any product or service can be offered via the internet, from books and music to financial help and plane tickets.
However, conducting business on the web is not easy. One of the main problems that e-Commerce vendors face and often can't deal with is inventory management. In order to handle it, many e-retailers get help from the specialized Inventory management solutions. Such system helps web store owners to cut their time and money expenditures and optimize their business process. It tracks inventory levels, orders, sales, and deliveries, as well as take control of the amount of products e-retailers have in stock. What is more, inventory management system forecasts potential product needs in order to avoid its overstock and outages.
As the demand for inventory management systems is enormous, they need to look forward to new technologies and possibilities that can help them to stay ahead of the competition. One of the tremendous opportunities for such B2B solutions is integration with shopping carts.
The Opportunity of a Lifetime for Your B2B Solution
Why being connected with various shopping platforms is so cool? Because as inventory system provider, you will extend the pool of potential clients, increase revenues, and gain a scalable functionality. Nevertheless, it is not easy to perform integration between any B2B solution and shopping carts. The difficulty is that different web stores are based on various platforms, matching their specific business requirements to the fullest. As every shopping cart has its unique way of data storage, extracting all necessary data on products and orders with their related information, requires establishing a connection with each platform separately. The described task is not as easy as it sounds because you will need to find experienced programmers to develop specific integration modules for every platform. It will take you a lot of time and will most likely cost you an arm and a leg. Moreover, after developers finish the elaboration process, it won't be the end of the story. You will need to continue to pay to the programmers, as the module will need further maintenance and updates.
If you're interested in the opportunity of integration with shopping carts, first of all, you need to choose one or few platforms to integrate and start working with. As the number of shopping carts is pretty big, it might be a challenging issue. So, in order to save hours of searching what solution to start with, consider one of the most widely used platforms -- Shopify.
Shopify is a leading shopping platform that has 8 years of experience and is very popular among e-retailers from all over the world. Connection with this e-Commerce solution will enlarge the number of your potential clients up to 165 000 in a blink of an eye. Integration of your inventory management system with this shopping cart will also improve your functionality, give you new possibilities and accordingly increase your profits. So how to perform integration with such favorable shopping platform in the shortest terms and with fewer efforts?
Your Personal Integration Assistant
API2Cart is an online service that helps inventory management solutions and other B2B software providers to successfully overcome the challenges of establishing a connection with different shopping carts. The service thanks to its unified API enables you to perform integration with not only Shopify but also get connected with 30+ other shopping carts via one integration. Among those platforms are such e-Commerce market leaders as Magento, WooCommerce, Prestashop, BigCommerce,, and others.
In case you decide to perform integration via API2Cart, you'll get the possibility to connect your inventory management system with Shopify and many other leading shopping carts simultaneously. You'll get access to such necessary data as orders, products, categories and customers, and will be able to operate all the information needed. API2Cart also gives you a possibility to sync orders placed from different marketplaces to exclude the deficiency of communication between channels.
Make your business thrive by performing Shopify inventory integration via API2Cart and get connected to 30+ other shopping platforms as a bonus. If you would like to find out more information, schedule a сonsultation with our representative and discuss the details.