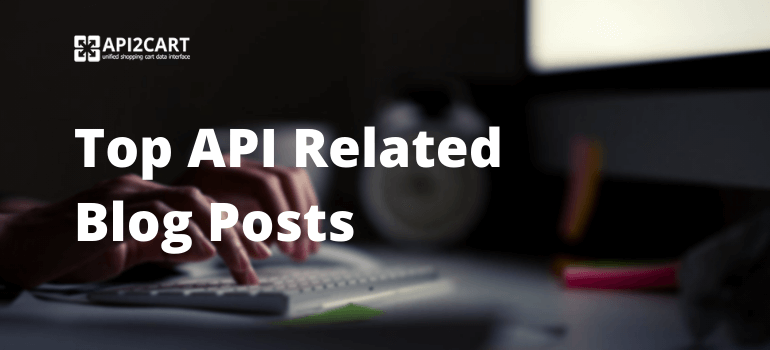 API is probably among the most hyped terms in the industry nowadays. And no wonder, as since the early days of digital technologies, developers have struggled to make various applications communicate with each other. And Application Programming Interface undergird the technical side of data sharing.
API penetration into eCommerce world has profoundly changed the business value of an API. A lot of talks are around this technology as it appears to be the heart of digital market dynamics. So, both developers and non-technical users strive to be aware of all the novelties and interesting researches concerning Application Programming Interface.
So, if you are looking for the posts that have attracted the attention of a community, API2Cart offers you top articles related to API.
Building an API and making it a valuable product doesn't contribute to a simple job. Explore 7 Key Practices for Treating Your APIs as Products and find out the answer how to treat your API as a standalone product with its own audience.
Have you ever wonder about the importance of twisting your API back to your business value? A Business Perspective on APIs will help you to set the record straight. Examine APIs comprehensively in the context of eCommerce and find out how to build them usable and useful.
"APIs of things" confidently afoot the digital world and brings abundant opportunities for building smart solutions. >APIs and the Internet of Things – Everything is a Prototype will assist you to unveil the secret.
API testing, is it really crucial? Why do you need it? How to perform such testing? It can be safely assumed that it IS important accordant with API Testing: Why It Matters, and How To Do It.
Changes are an essential part of every work, and designing an API isn't an exception. API versioning appears to be a key to prepare and handle them. Do you really need API Versioning or are there some alternatives?
Simplicity, openness and interoperability - qualities that both XML and JSON formats possess. However, there are developers on every side arguing for their favorite. So, which one to choose? Read a blog post JSON vs XML: How JSON Is Superior To XML to find the answer.
Do you provide your public API but still don't offer full access to the data assets? Explore some several aspects of Open Data and find out  how to make it work for your business.
Designing, implementing, and maintaining API can be a real challenge. Take the journey from determining the business case for APIs to a design methodology with the article series Web APIs: From Start to Finish.
It wasn't a simple option to choose these articles among the variety of useful information. However, we strive to make a contribution to your better understanding of the complex API term. Feel free to comment and add more topics concerning Application Programming Interface that has been a hand of help for you.