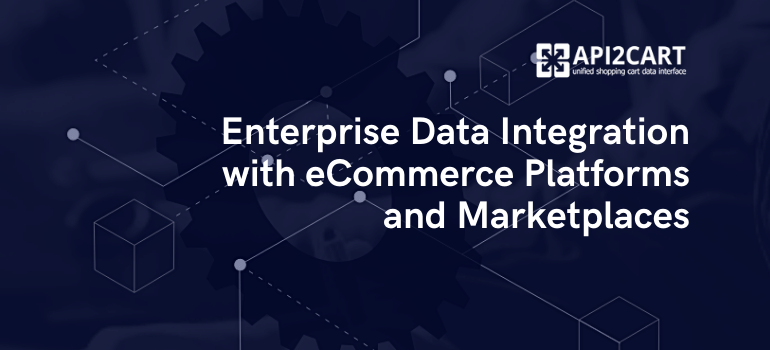 Online store owners need high-volume B2B enterprise solutions to streamline their business operations and perform them efficiently. Every online store has to work with inventories, orders, warehouses, shipments, and other functions to run their business. To streamline their business operations and perform them efficiently they often use software solutions such as inventory management, warehouse management, shipping software, etc.
In case online store owners have to deal with big data flow on different sales channels, they rely on high-volume B2B enterprise solutions. Such types of software usually allow online store owners to manage inventory, stock, orders, product information, shipments, and every other eCommerce operation in one place.
But how do high-volume B2B enterprise solutions perform all the eCommerce operations so easily?
The answer is simple - with the help of enterprise data integration with eCommerce platforms and marketplaces. Such B2B SaaS applications need access to all the data related to customers, products, and orders from different eCommerce platforms to provide their functionality to online store owners.
In this article, you will discover top eCommerce platforms your B2B enterprise solution has to integrate with and how to integrate with them with ease.
What is Enterprise Data Integration with eCommerce Platforms?
Enterprise data integration refers to the process of connection between B2B enterprise solutions and eCommerce platforms and marketplaces. The integration allows these solutions to work with customers, orders, products, and order data.
As online store owners build their shops on different eCommerce platforms, B2B SaaS solutions have to develop integration with as many as possible shopping platforms to be competitive on the market. Thus, B2B enterprise solutions will be able to provide merchants with the functions like inventory management, order management, updating stock levels, calculating price, managing warehouse, and shipment, tracking deliveries, and more.
The integration methods incorporated in the B2B SaaS software code syncs data across all the eCommerce platforms and collects in a single place to help online store owners perform their eCommerce operations.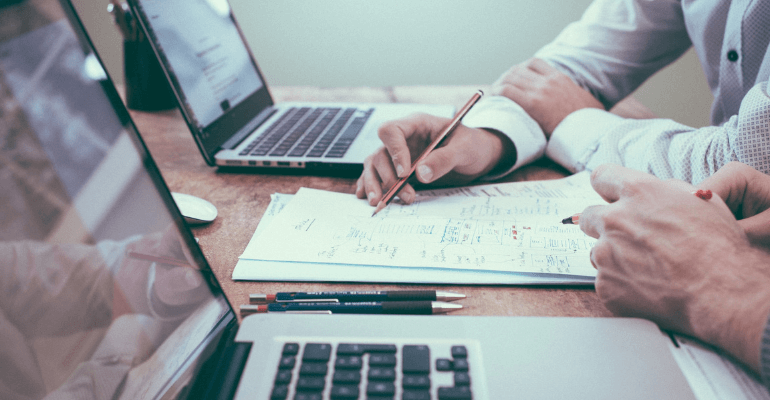 Top Shopping Platforms and Marketplaces Your Enterprise B2B Solution Has to Integrate with
As a high-volume B2B enterprise solutions provider, integration with eCommerce platforms and marketplaces is a must for your software to provide your core functions to the online store owners.
Here is a list of shopping platforms and marketplaces you should consider for integration:
Shopify
Shopify tops the list with more than 1,500,000 online stores actively running on the platform. With a high-quality service at the most affordable price, Shopify is a go-to eCommerce platform to integrate your B2B enterprise software with.
The platform supports 50 languages and serves a huge clientele in the USA (1,000,000 active stores). The only challenge is Shopify's API which updates in every three months and can affect your integration too.
Etsy
Etsy is another top platform with more than 2 million sellers, especially dropshippers. Popular for selling vintage items and handmade crafts, Etsy allows its clients to showcase their products effectively and use detailed statistics to make better business decisions.
Similar to Shopify, Etsy also has a complex integration process to undergo and while its interface is easy to use, the process takes time and advanced developers.
WooCommerce
Next on the list is WooCommerce which has more than 30% of all the online stores under its space. Not only a huge clientele makes it popular but a large customer base of more than 3,000,000 adds to its popularity.
The platform gained much popularity due to its large number of free and paid extensions and the flexibility to sell items from physical products to content and appointments. The only pain point is its API versions that can create problems for online store owners if the integration is not updated along.
Magento
After WooCommerce, Magento covers 26% of all the online stores running out there. It is a great opportunity for B2B enterprise software providers to establish integration with Magento as being an open-source platform, it offers a variety of customization options to its clients.
The problem arises when Magento's EAV (Entity-Attribute-Value) database model updates products and categories on more than 40 tables.
The challenges are not limited to those mentioned here as the number of eCommerce platforms and marketplaces is a long one. Take a detailed look at the pitfalls.
Pitfalls of Integration with eCommerce Platforms Without a Third-Party Solution
Enterprise data integration with shopping carts takes a hell lot of time depending on the platform. For example, Shopify takes a month while Etsy can take 4-6 weeks.
The absence of a third-party solution will keep you engaged in integration development and you cannot concentrate on your core business functions.
API Data integration is a complex setup and requires advanced developers to establish the connection between high-volume B2B enterprise solutions and eCommerce platforms. The connection depends on various software architectures and hence you need a specialised team that can comprehend and work with those architectures.
If you are looking forward to building an in-house team, you have to bear hiring, onboarding, training, and employment costs overhead.
Thousands of dollars are required for enterprise data integration with eCommerce platforms. Moreover, integrations are dynamic. They need upgrades and maintenance with every upgrade as released by shopping carts.
The cost of maintenance will be added to your development team's costs and the infrastructure needed to establish multiple integrations - there are many shopping carts and marketplaces to integrate with!
So, is there an easy way out?
How API2Cart Can Help Enterprise B2B Companies to Integrate with 40+ eCommerce Platforms
API2Cart is the easiest and effective enterprise data integration solution. With a well-defined and unified API, API2Cart allows high-volume B2B enterprise software providers to connect with more than 40 shopping carts and marketplaces like Magento, OpenCart, Shopify, BigCommerce, Etsy, Amazon, 3dcart and many others at once.
Moreover, we have a special offer for high-volume B2B enterprise solutions. If you want to make API integration with eCommerce platforms a part of your strategy, you can take full control over it using the Enterprise On-Premise plan.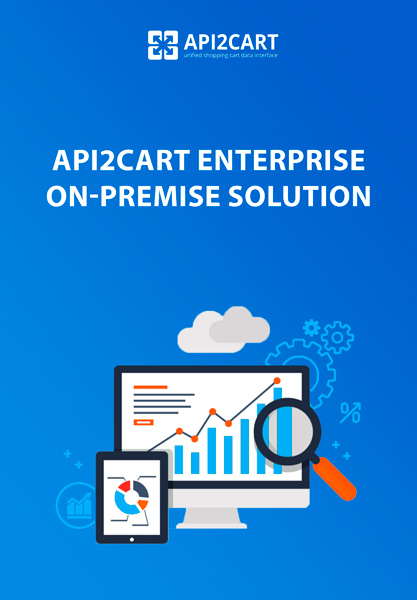 Enterprise On-Premise Solution
Discover how Enterprise On-Premise Solution works and how to start using it.
DOWNLOAD
The main benefit of Enterprise On-Premise is that it can be implemented into your business infrastructure, and nobody, except your company's specialists will control the integration process. It guarantees high reliability of the service and complete security of data received from your clients' shopping platforms.
To know more about how API2Cart works for high-volume B2B enterprise solution providers like you, book a consultation call with us or contact us. We provide a 30-day trial period to test how the integration will work for your business.