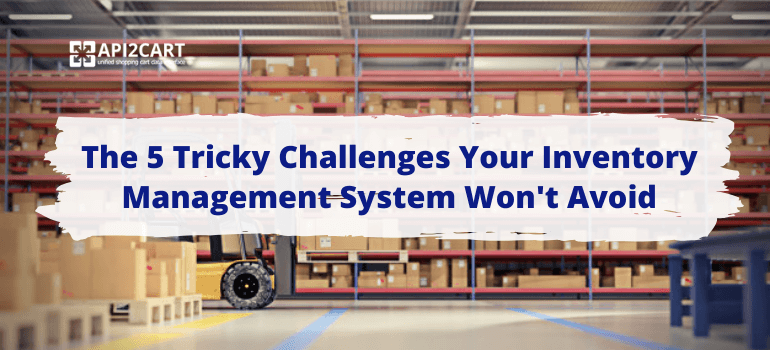 Inventory management systems have greatly facilitated the lives of their users by automating many tasks that previously required hours of work and more than one employee. Keeping track of all the items in and running out of stock as well as unavailable, ordered and sold ones is a pain when done manually on paper. Inaccuracy is unavoidable here as it is natural for humans to make mistakes. The matters of possible incorrectness and the paperwork taking much time that could be spent else how to result in financial losses, which make a good reason for inventory management software to be the choice of many merchants.
However, it would be a mistake to consider creating automated computerized inventory management systems a simple matter. There are thousands of hidden pitfalls to avoid, hundreds of things to take into account, and dozens of problems to solve, but the result is worth the efforts. The secret to a great inventory management system lies in a great beginning. This implies that it should be started with the highest efficiency and quality in mind. Therefore, it is important to thoroughly analyze the most common clients' needs it should fulfill before commencing to work on a new system, and then adjust the design to perform the task in the highly efficient manner.
The thing to remember is that design and analysis alone are not enough to come out on top. Competitive advantage in terms of functionality and ability to offer more to a wider clientele are no less pivotal. Integration with popular shopping platforms is the missing element to the versatile solution your future potential clients will be glad to have found.
Let us now have a closer look at the common challenges B2B service providers face when designing their new inventory management system solution.
Discovering and Prioritizing the True Clients' Needs
It is a top priority to analyze the demands that an inventory management system should fulfill. However, it does not only mean making a list of all desirable functionalities. They should be categorized and prioritized to get a clear picture of what the system should definitely be capable of and what can be pleasant - but not vital - addition.
Failing to conduct this analysis correctly may put unnecessary stress on tasks of lower importance while omitting the truly essential ones. This would create gaps in system functionality and even lead to problems with shortages or vice versa -- too much inventory with little perspective to be sold.
Choosing the Right Design
When selecting between the centralized and decentralized design of an inventory management system, it is important to weigh all the pros and cons of each variant. A decentralized system - with each point of sale is responsible for providing accurate and timely data -- may be a good option for small businesses. However, this type of design lacks the power and flexibility the centralized variant offers. Integration with a point of sale or other software used to keep track of orders and sales provides real-time accurate data on the stock quantities and is virtually independent of the human factor.
Timely System Optimization
Creating a well-designed inventory management system is not the end of the road. It should be maximally optimized to serve the clients the best and take their small needs appearing as they keep using the system into account.
On the contrary, a non-optimized system that doesn't grow with the business can be problematic due to providing inaccurate inventory levels. It can lead to inadequate future inventory ordering panning and losses for clients that may end up going for a more suitable inventory management system.
Items location updates
While it is crucial to know what is in stock and in what quantity, it is of no less important to know the real-time location of the item in question. If this data is either incorrect or missing, finding the necessary item becomes a puzzle that might become a loss if not solved timely. One more reason for why optimization should not be neglected is its being important for future inventory needs forecast and cost-control measure. It might also be a good idea to work out the way to conduct physical stock checks at certain periods of time.
Shopping Cart Integration
Integration with shopping carts is not only beneficial but also absolutely necessary for inventory management software. It is what lets the system get real-time data on products, orders, inventory levels, and tracking numbers from the online stores. This information makes it possible to provide the inventory management service as well as a whole bunch of useful features such as reorder points.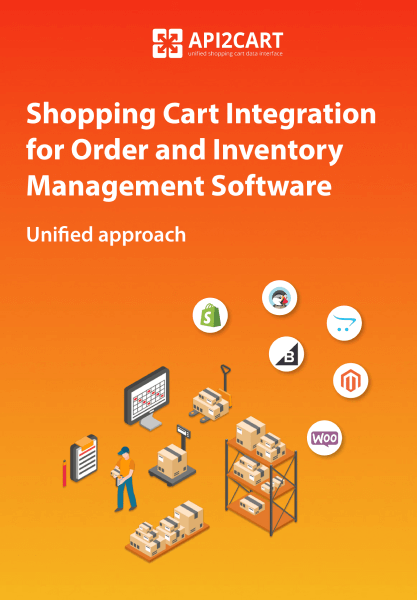 Inventory Management API Integration
Explore how to develop the integration between your inventory management software and eCommerce platforms easily.
DOWNLOAD
Among the pros of shopping cart inventory system integration are enriched functionality -- it works to the benefit of the solution in the eyes of clients - and a wide circle of potential customers consisting of each user of the platforms the software is integrated with. The challenge here lies in the fact that integration with just a couple of shopping carts might be not enough to attract many clients. Every business owner selects the e-retail platforms that are the most suitable for their business needs, which means that by integrating with a few you miss thousands of potential customers. For this reason, it would be much more beneficial for the system to support a decent number of eСommerce platforms, since this would allow beating the competitors which already do.
Other than that, working on shopping cart integration is a painful and lengthy process that requires serious time and money investments accompanied with finding specialists to get into each particular cart database since all of them are built differently. Plus, when the system is at last integrated with a shopping platform, it requires further technical support and maintenance as the new versions of the carts are released.
Obviously, creating a state-of-the-art inventory management system is not easy as much knowledge and efforts are needed to overcome all the challenges mentioned above. Luckily, API2Cart is the solution that can help to handle at least one of them - the integration issue. This online tool offers a unified API to connect to 40+ most widely used shopping platforms like Shopify, BigCommerce, Magento, PrestaShop, OpenCart and many others.
Bottom Line
If you have some other tips to share, feel free to do so in the comment section below. In case adding integration with shopping platforms to your inventory management solution sounds like a good idea to you, you are welcomed to discuss it with our expert. You can schedule a free consultation by clicking on the button below.