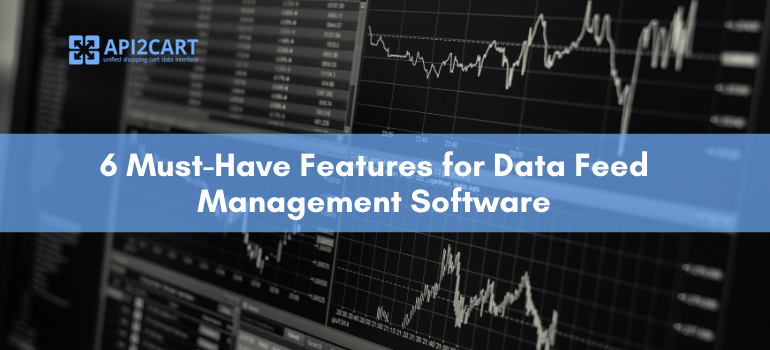 Staying competitive on the market, if you've already got your data feed management (DFM) solution there, or becoming competitive in case you're working on creating the DFM service is tough. Aside from developing the technical side of the software, you've got to focus on its marketing side. To put it clearly, you need to know what your potential customers expect from your solution, and how it is going to help in their everyday routine.
The whole point is, packing your DFM service with features isn't the road to success. In most cases, your customers-to-be don't have the time, desire, and knowledge to appreciate the sophisticated technical details. On the contrary, they need an easy-to-use yet robust solution that will meet their current needs to the letter, and only in that case are they ready to check out its other advantages.
To help you decide on which features to include in your data feed management system, we've compiled the list of most sought-for functionality according to your potential customers.
Easy feed creation and modification
One of the problems businesses face when planning to extend their online presence is feed creation itself. Filling all the data fields manually can hardly be acceptable even for small stores with a limited assortment, and it is not an option for big shops with thousands of SKUs.
Offer your customers a choice of ways to have their feed created - from importing the data from a source feed, xml/txt/csv file, database, ecommerce platform to pulling it from a website.
Likewise, ensure that your clients are always able to modify the feeds via automated rules as opposed to manually editing each field in case the need arises.
Automated feed optimization
Creating a feed is just a half of the whole matter. To get a product listed on numerous shopping engines and marketplaces, it has to comply with the channel's unique formatting rules. Otherwise, it will simply get unlisted.
Keeping up with the demands that differ per engine is next to impossible since it requires much time and effort from merchants. So, a good DFMS should not only "know" the feed submission requirements on various shopping engines, but also be able to automatically apply the formatting rules to all feeds to ensure successful listing for all products.
Another aspect of feed optimisation is CPC campaigns. This feature allows to remove the products that aren't profitable automatically, according to the previously set parameters and avoid unnecessary expenses.
Real time feed updates
Merchants know that top quality service is indispensable for keeping their customers happy. Thus, no matter where the potential buyer chooses to purchase or view the products, they should always be provided with the freshest info.
Your data feed management system has to be ready to ensure this. Many top DFMS vendors provide the opportunity for their clients to schedule the frequency of feed updates ranging from once a day to about every 30 minutes.
In-depth performance analytics
Seeing the data from all engines and channels within one dashboard with as much information as possible would definitely be considered crucial for most of the potential DFMS clients. They are in a strong need for comprehensive analytics to track conversions, CTR, CPA, etc., discover the best- and the worst-performing products and listings, calculate costs etc. Providing this info in real time would add up to the value and enable merchants to instantly react to any performance changes.
Multiple shopping channels supported
Most of DFMS clients are merchants who are looking to increase their business exposure through versatile marketplaces, comparison shopping engines, Google shopping, affiliate networks, social media etc. This is why it is essential that your software provides them with as wide a choice of opportunities for feed distribution as possible. Ideally, it shouldn't be limited to your home country only, but cover international and even local channels from other countries too.
Multiple shopping cart platforms supported
The more eCommerce platforms a data feed management software integrates with, the bigger number of potential clients it has. Being able to automatically retrieve the necessary data directly from a cart facilitates the process of feed creation and management, plus it is convenient for store owners.
This functionality, however, comes at a price - literally and figuratively: adding the support of each particular shopping cart requires deep knowledge of its peculiarities. So, you either need to hire a pro and shell out a decent sum for the work, or invest lots of time into learning.
Another difficulty lies in the fact that each platform has its unique way of storing information, so the possibility of using ready fragments of code is unlikely. Moreover, each new integration requires
Still, you can add support of over 40 popular shopping carts with just one integration -- using API2Cart services. This solution provides a unified API for your data feed management system integration with a number of eCommerce platforms, including Magento, PrestaShop, Bigcommerce, Shopify, WooCommerce, OpenCart, etc in a fast and simple way.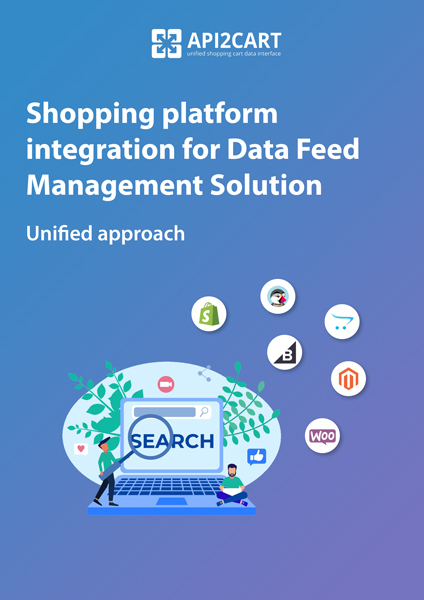 Shopping Platform Integration for Data Feed Management Software
Download this guide and explore how to develop the integration between your data feed management software and multiple shopping platforms and marketplaces easily.
DOWNLOAD
Here's what opportunities it offers for data feed management systems providers:
get products, orders, customers, categories and other related info from ecommerce platforms and send it to various sales channels;
synchronize products info and price from the clients' stores for easy feed updates;
retrieve product count for inventory updates on the marketplaces
Our experts are always there to answer your questions on integration and work out the best cooperation scenario for your business utmost benefit. All it takes is to schedule a call with one of API2Cart representatives or leave us a message and start your way to success.