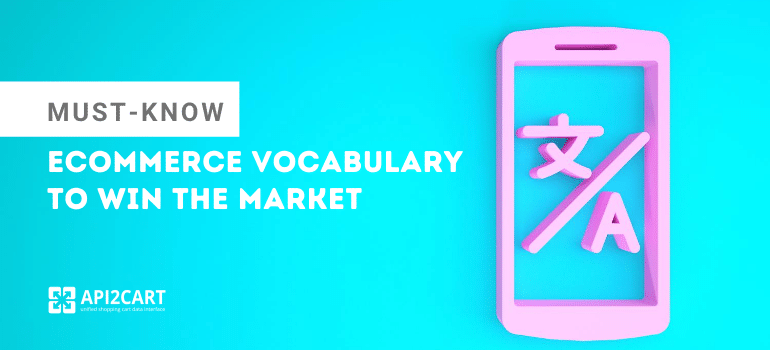 Anyone who has ever experienced learning a foreign language knows how struggling it feels sometimes to study a long list of glossary definitions. Yet no doubt this is one of the most effective tools to reach your final goals: fluently talk, write and simply express whatever message you want.
Learning the eCommerce market works just the same way. You have to first learn the meaning behind the key terms and only then implement them, control and operate. In this article, API2Cart has collected the most common definitions so that you could feel more comfortable on the eCommerce playground.
A
Abandonment - an action of visitor leaving a webpage before completing the desired action. Most typically refers to shopping cart abandonment, when visitors add items to the shopping cart and leave the store page without finishing the purchase.
Affiliate – an individual or business who promotes the products or services of another for a commission. Ecommerce sites run affiliate programmes to encourage other website owners to refer traffic, paying a commission on each sale through a given affiliate link.
API (Application programming interface) - a set of methods for communication between various software components. APIs allow an application to extract data from a service and use it on their own.
Example. API2Cart is a unified shopping cart integration solution that enables you to easily get, update, add, retrieve and sync various needed data, including products, customers, orders and other related information. It provides integration with over 35 most widespread shopping platforms, including shopping carts Magento, Shopify, WooCommerce, and marketplaces Etsy, eBay.
B
B2B (business-to-business) - a market condition under which one business commercially interacts with another. Some well-known examples include Slack, Salesforce, FedEx, and Oracle.
By the way, have you read our latest B2B eCommerce News Monthly: Why B2B Is The Next Trillion-dollar Payments Opportunity?
B2B2C (business-to-business-to-consumer) - the business model of a B2B company either reaches other firms where there is known engagement with customers or goes directly to consumers themselves.
B2C (business-to-consumer) - the business model of a company selling directly to customers. Such companies as Amazon, Apple, and Nike work B2C.
B&C store (brick & blick store) - a retail outlet or business with at least one physical location and at least one ecommerce enabled website.
B&M (brick and mortar business) - a business that has a physical store location and offers a face-to-face experience.  
C
Conversions - a percentage of users who complete the desired action in comparison to users who are regarded having the opportunity to complete it. It is usually considered as another result than a sale.
One example of a conversion event other than a sale is if a customer were to abandon an online shopping cart, the company could market a special offer like free shipping, to convert the visitor into a paying customer. A company may also try to recover the abandoner through an online engagement method such as proactive chat in an attempt to assist the customer through the purchase process.
Other common terms include conversion marketing, conversion rate optimization, conversion funnels.
Cross-selling - a marketing tactic for selling complementing products to existing clients in order to enhance or improve the main purchase. For example, a mobile phone cover for a mobile phone.
D
DropShipping - a type of shipping wherein the online stores do not keep the selling products. Instead, they pass orders to a partnering wholesaler who is supposed to ship directly to the customer.
E
ERP (enterprise resource planning) - a management software which embraces all the core eCommerce business processes. ERP makes it possible to manage finance, marketing, inventory, orders, service delivery, and shipping from one system, which is very convenient.
Read also: What Makes ERP a Truly Encompassing Solution
F
Fulfillment
- a system of receiving, processing, packaging and shipping orders of the retailer.
You can find out more here: A Brief Glossary of Order Fulfillment Terms & Definitions
I
Integration developer - an individual who aims to achieve autonomous data synchronization between two points, for example between a shopping cart and a client's software. This ensures that the product, order and customer data is in sync between both systems.
Inventory - retailer's quantity of products available to be sold, present on hands.
Read also: Inventory vs Warehouse: The Common and The Different
L
Long Tail – phrase used to describe individual, highly specific keywords and search terms, which in volume can add up to a significant amount of traffic.
M
mCommerce
(mobile commerce)
- handling commercial transactions through wireless handheld devices such as cellular telephone and personal digital assistants.
Read also: Where Mobile Commerce Is Moving?
O
Omnichannel - a sales approach that provides customers with an integrated shopping experience via various channels (desktop, mobile, B&M, etc.).
P
Payment Gateway – the payment processor used to handle transactions on your ecommerce store, your payment gateway can be either on-site or off-site, depending on what works best for your model.
PoS (point-of-sale) - a software which enables the online store to accept transactions, manage inventory, add products, process payments and send receipts digitally.
S
SaaS (software as a service) - a software licensing and delivery model in which software is licensed on a subscription basis and is centrally hosted.
Read also: How to Keep Your Data Safe in Cloud-based Saas Software
sCommerce (social commerce) - using social networks and interactions to encourage consumers to buy products online.
Shipping - transferring a physical product from a seller's warehouse to the customer's delivery address.
Shopping cart - a virtual representation of a shopping cart as a piece of eCommerce software on a web-server. It allows visitors of an Internet site to select items for eventual purchase.
Split testing
– testing two separate elements of your eCommerce mix to establish which performs better, side-by-side testing to optimise your website.
U
Upselling - sales technique through which customers are gradually offered to upgrade via purchasing a more expensive version of the product in order to maximize the company's profits.
UI (user interface) - a type of interface which allows users to interact with a software or a device.
Read also: Simple UIs that Work: How Successful eCommerce Software Vendors Present Integrations with Shopping Carts (Part 1)
UX (user experience) - person's feelings about interaction with a certain website, application, device. It helps to evaluate the overall usability in terms of the content, design and functionality.