5 Mistakes Which Increase Cart Abandonment Rate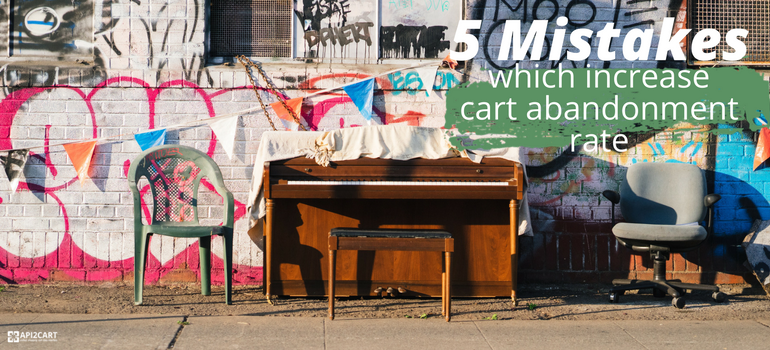 This guest post was originally submitted by Brenda Berg. 
You've already managed to generate your leads through whatever methods you use.
You've guided them through your sales funnel all the way to physically clicking on your products and adding them to their basket.
And then it's a dead end.
Cart abandonment is one of the most overlooked marketing flaws. It's vital to figure out why customers are leaving their carts and what methods to use to lower this rate. After all, the average business abandonment rate is around 68%, a figure that cannot be ignored.
Fortunately, many methods have proved their effectiveness. Today, we'll explore the main reasons along with the key techniques to minimise cart abandonment.
1. A Lack of Urgency.
According to VWO, 90% of the first-time customers feel uneasy shopping at a new store.
Many customers come to the store simply shopping around. They may add products to their cart and go elsewhere to look for a better price.
Discount codes, money-off coupons, vouchers at the checkout are tools to create a sense of urgency. This makes shoppers much more inclined to purchase because they doubt to get a better price elsewhere.
2. Questions & Answers.
Sometimes shoppers just want to know more about a certain product without continuously looking for the answers around the website. An effective solution is to provide the live chat function or chatbots. Artificial intelligence is gaining a strong position in the eCommerce market due to its cost-effectiveness.  
3. A Maze of a Checkout Process.
Commonly companies spend too much time on a perfect marketing strategy and sales funnels. Yet they often forget to overlook the checkout process, making it user-unfriendly. To remedy this, create a checkout guide to run alongside your checkout form.
4. You've Been Forgotten About.
Sometimes customers add things to their baskets, and then life gets in the way. They have somewhere to go or something to do.These customers can easily forget about their cart and never return.
In this case, the customer will need a gentle reminder to continue shopping. Email automation tools or chatbots may be of a massive help.
"By using special B2B automation APIs, you can actively message and inform potential customers that there are items pending in their carts. To seal the deal, you may want to add a discount voucher or a coupon code for their checkout process." - Joseph Davis, Academized.
5. The Absence of Payment Options.
You may have thought you have covered all the bases by accepting VISA payments, but this isn't the only type of payment that customers use, and some customers may be forced to abandon their carts, simply because they are unable to pay.
"Around 8% of customers fall into this category" states Amber Cobbs from Ox Essays. "Consider what payment options you use and could include, such as mobile payments, PayPal, online banking, credit cards, debit cards and American Express."
Interested in advancing your eCommerce software?
API2Cart is a unified API which supports over 35 shopping carts and marketplaces. It is the best choice in case you'd like to focus on improving your core product instead of working on intricate shopping cart API connections.
You can learn about our product by contacting us or signing up.
Author's bio.
Brenda Berg is a professional with over 15 years of experience in business management, marketing, and entrepreneurship. Consultant and tutor for college students, entrepreneurs and a part-time educator and Editor in Chief at OxEssays. She believes that constant learning is the only way to success. You can visit her personal blog Lets go and learn.